Aussie Victorian - HO - David Head
From LdsigWiki
My layout, not yet named. It is located in Greensborough, Melbourne, Victoria, in the "land downunder" - Australia. Progress update: 18 Sep 2008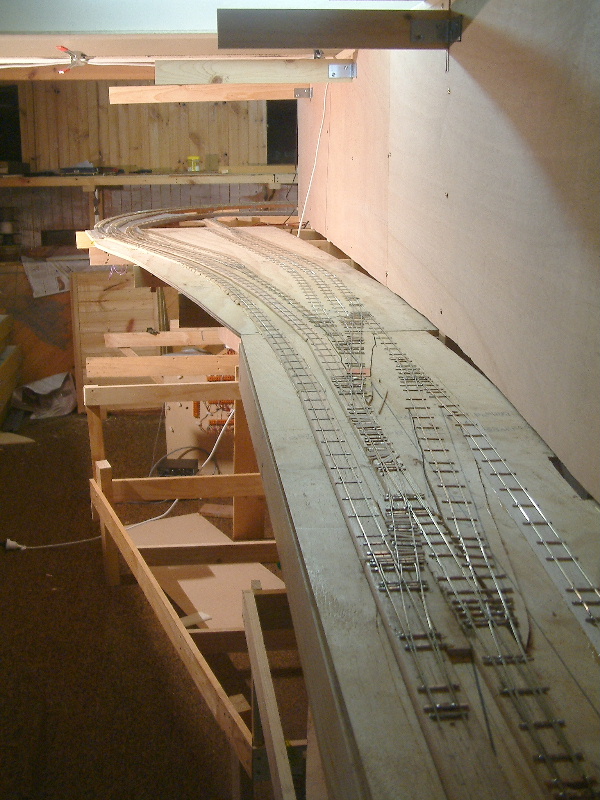 It is a HO scale layout that had used the LDSIG alot for inspiration.
For more information and updates: External Link to David Head's Website
Layout design has been a hobby as well as model railroading proper. My layout incorporates a few new, a few old ideas that suit me.

The layout at a glance (as proposed)
---
Name of Railroad: Not decided yet.

Scale: HO (1:87)
Size of Layout: 32 x 21 Feet.
Prototype: South Eastern Australian - standard gauge.
Period/era: Modern back untill 1950's.
Layout Style:Double deck, Around the Walls. No helix, one track riese the whole time making all layout a two turn helix....
Layout Height: Decks roughly 50cm apart
Benchwork: Open Grid.
Roadbed: SPLINE roadbed made from masonite between stations or for spurs or basic junctions. 12mm Ply track base, may use 3mm ply as as cork to raise the track - mainly for stations and yards.
Track: Handlayed code 80, some commercial code 83&100.
Length of mainline run: Not determined yet.
Turnout(Point) minimum: no#6. no#7 the main points used
Minimum curve radii: 30 inches. Preferred radius 36 inches.
Maximum grade: 1:45
Scenery construction: Styrofoam, plaster and cardboard formers. - any ideas I will try.
Control: NCE DCC with manual and electronic point control, and eventual computer control of points & signals.
Starting Date: 2002
Completion Date: TBA (2012 !)
To see the (evolving) Layout Plan: Click Here
Add your Comments: ...
Feel free to add a comment or ask a question here..... (click on 'edit' on the right)-->