BNSF GPR sub - HO - Ross Gerin
From LdsigWiki
The GPR is a fictional subdivision of the BNSF, simply because my first loco was a BN SD40. I'm inspired by the rugged beauty of the mountains in the NW corner of USA. I also love the challenge of creating realistic scenery, within in reason (considering time and money constraints).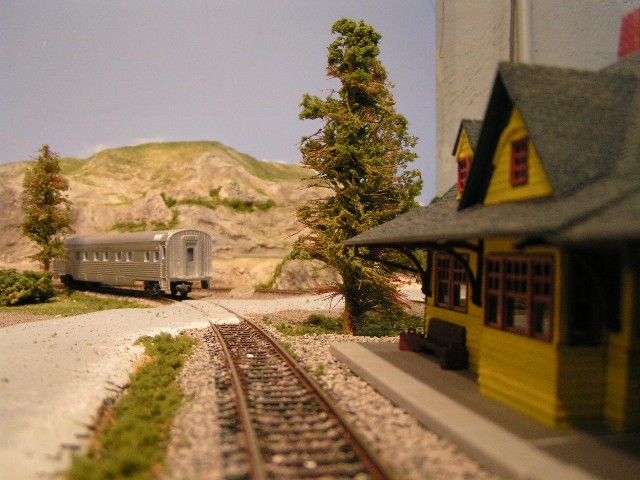 BNSF GPR Subdivision
Locale: Although I am not modelling a specific region, the Spokane area would be close, since I also have UP locos.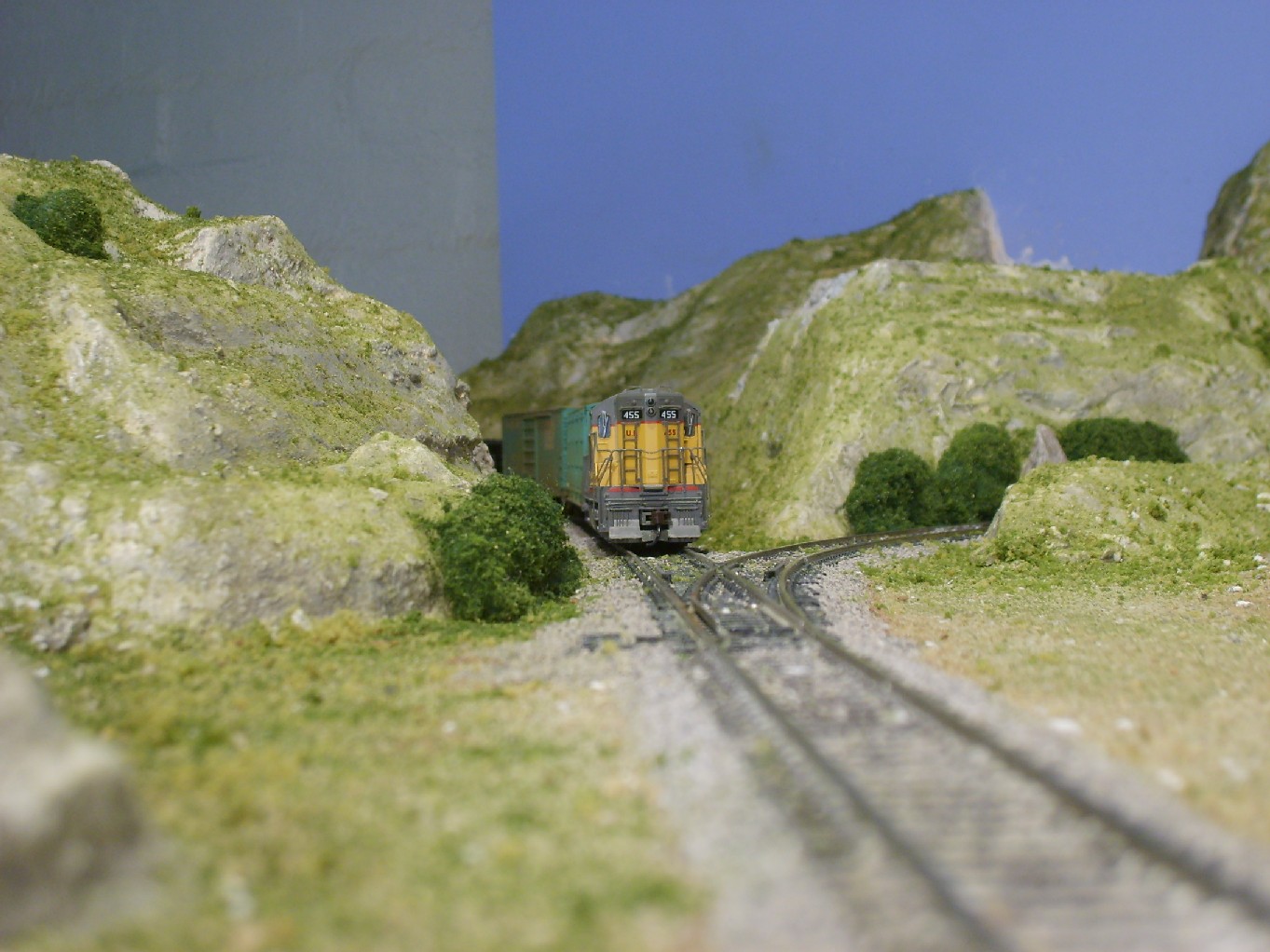 UP coming thru!
Era: modern
Benchwork: polystyrene foam over pine open girder frame
Layout Type: sectional/modular
Layout Height: 45 inches
Control: DCC
Scenery: plaster or goop over plastercloth over foam sheets
Era: modern-ish
This layout is my second attempt. The first was a 5x12 foot mess of tight, twisty turns and steep grades, poor trackwork on dodgy plywood and many derailments.
I have since applied the KISS principle and stripped it back to the benchwork and started over to build a 5x12 foot base module for an eventual 17x12 modular layout. I'm using the following guidelines: polystyrene foam base, zero grade, min 30 inch curves for double mainline, minimum No. 6 turnouts on the mainline. Modules will be 2, 4 or 6 foot by min 2 foot depth. Corner modules will be 4x4. The layout is in a garage so the 17x12 layout will only be setup on operation nights.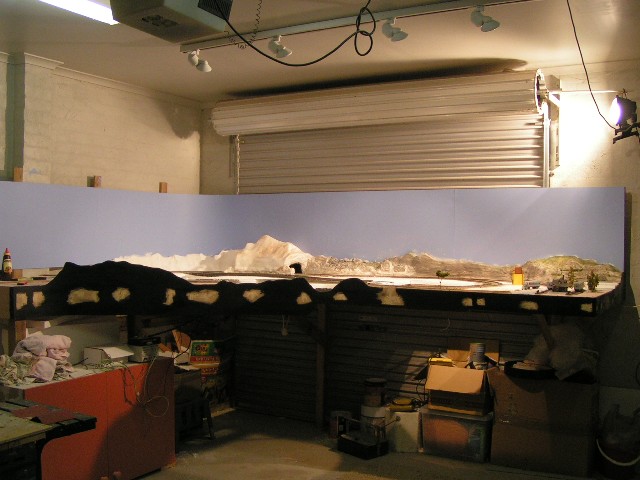 Base Module: I have finished the terraforming, added a small lake, building roads, have some kits completed. Current engineering job: installing a working scratch-built 130 foot turntable.
Next module: I plan to build a 4x10 section that runs along the garage side wall connecting the double mainline to the left of the base module.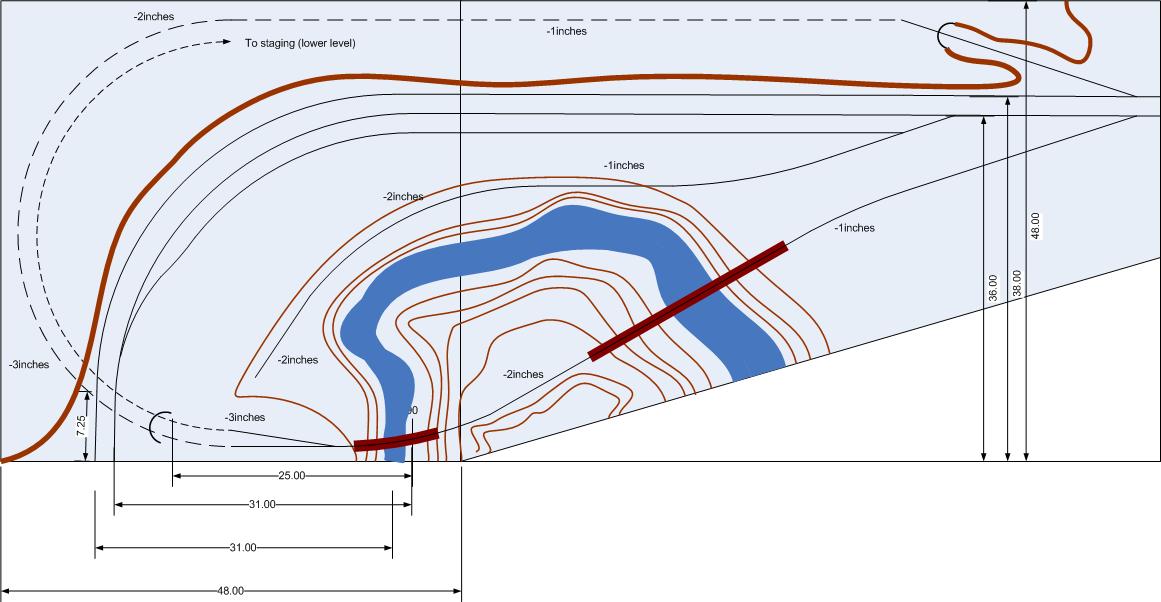 The double mainline will extend along the side wall and then curve to meet the next module to run along the front roller door of the garage. I'd like to have a loop to complete an L-shaped dogbone.
The long bridge will be a scaled-down relpica of the Coram Bridge in MT. Not sure what industry to add to the spur running down to the river. I'm open to any suggestions here.
Backdrop
It's amazing how a few layers of colour can make a difference. I'm fairly happy with the effect. I may sharpen the edges of the snow and add a little more tree detail to blend the transition.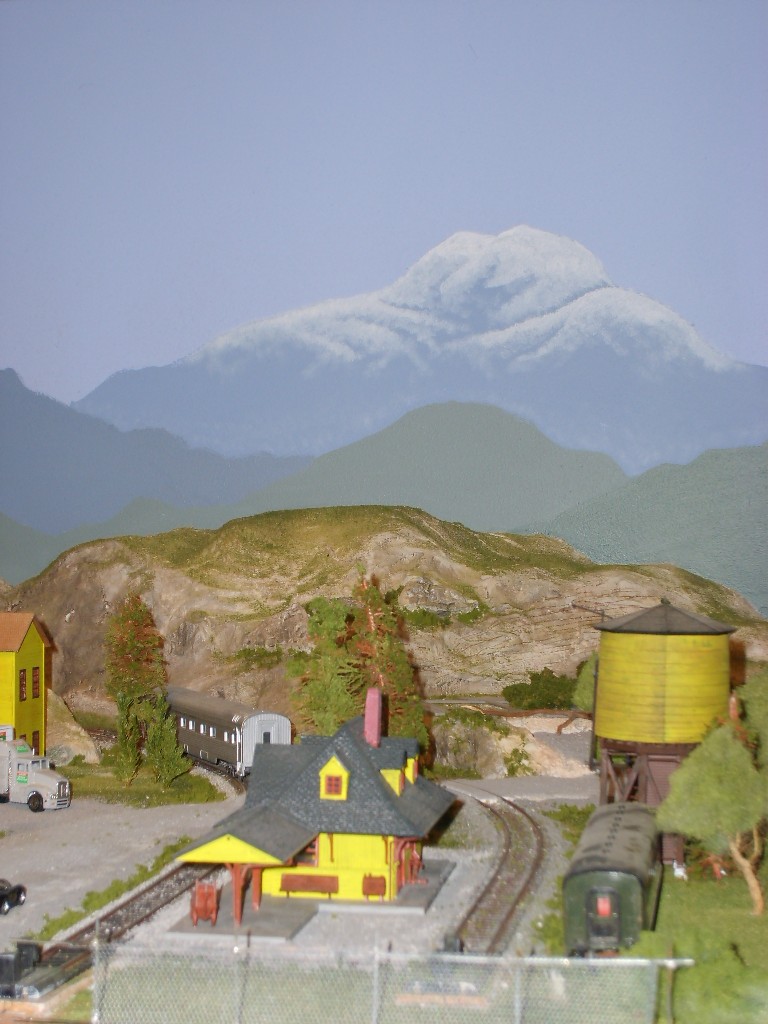 The next shot shows work-in-progress to replace a yard and turntable with a 3 tracks for a coal mine and 3 spurs for industries (to the right). After witnessing an exciting switching layout at a local exhibition, we decided we needed more switching action. Work on the 130" turn table was grinding to a very slow pace but we will install that on a future module.