Burlington C&I Sub - N-scale - Paul Leonard
From LdsigWiki
Dear Folks:
[[(Last update 9 Aug. 2010.)]]
I began build the first 2 modules of my updated concept (described below) in February. My immediate objectives are to validate the track plan in Oregon for operability, to experiment with coloration of the layout, and lately to get some experience with DCC. The layout is currently in the garage, with temporary "end" to turn trains. I hope to be able to reclaim a bedroom in the not too distant future to use as a layout room. The "C&I Sub" described below will use that space.
The Chicago & Iowa Sub is intended to model a portion of the Burlington in Illinois from Galena Jct. south to Savanna, then eastward to Oregon, and Flag Center. Dubuque, Rockford and Aurora will end up in staging, but exactly how still remains open. This selection of locales allows modelling interchanges between Burlington and CGW at Galena Jct., with CMSt.P&P at Savanna and also MILW trackage rights from Rockford to Steward Junction via Flagg Center
I am still concerned about the mix & match of curve radii versus access to the east side of the layout. The view block along the Rock River on the east, and visual separation at the back of the layout appear to working out acceptably. So far the view block is hand painted, but I will eventually try some of the available photo backdrops. The current version of the plan has incorporated some initial comments from the LDSIG concerning the value of aisle-space at the east side of the layout. This involved reduction of the curve radii at Oregon and the Mississippi Palisades. Currently these areas are using 13.75 and 15-inch radii, where formerly I was trying for 20-inch minimums.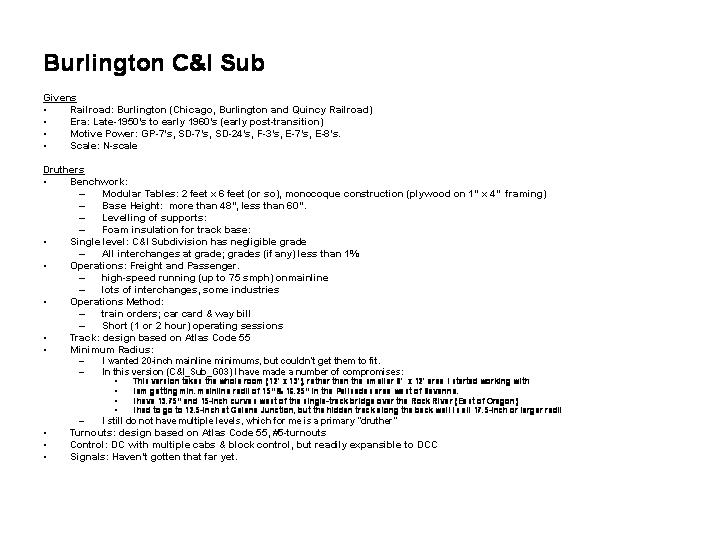 Here is the current (Aug. 2010) version: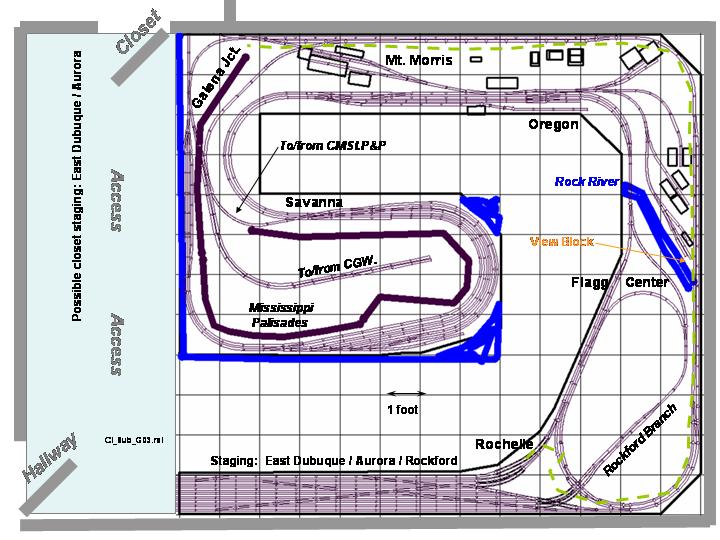 This is the initial version: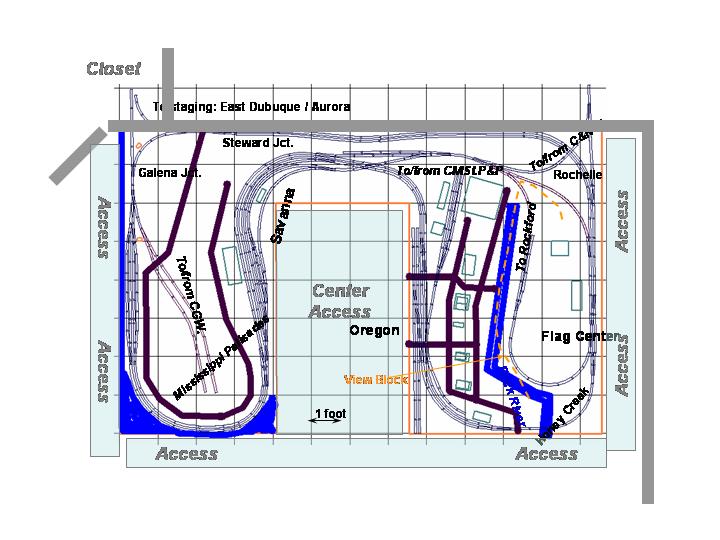 This is the revised version with 13.75 and 15-inch radii, and better aisle access at the east side: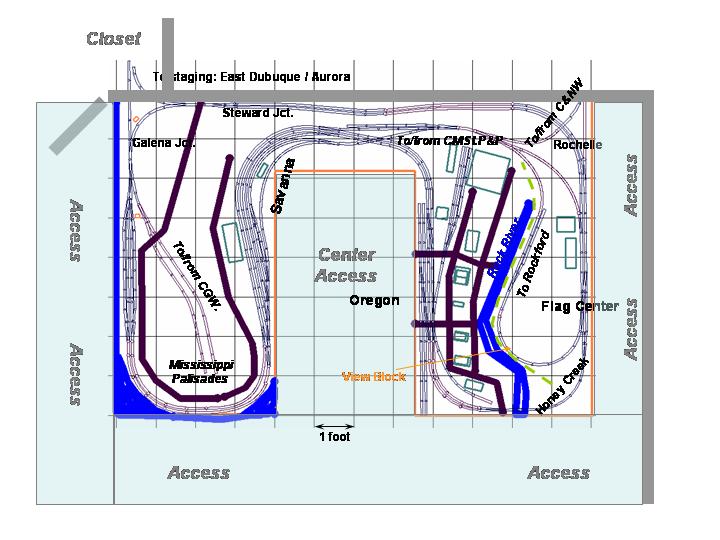 [[Updated 21 April 2008:]]
I have been working to determine typical freight and passenger schedules for the C&I sub. Below is a schedule for Oregon on a typical day in 1961. There are 6 passenger and 4 or 5 freights in each direction daily at Oregon. Additionally, there is are a pair (north/south) daily MILW freights that use CBQ rails from Steward junction to Rockford via Flagg Center. This is a lot of traffic. It is, in fact, a lot more than I can store in single-ended staging (even if I thought I could afford all that extra "varnish".). Therefore, I may need to re-think my antipathy for a multi-level layout: in fact, I think I probably will have to have a lower, staging level. Any thoughts you have would be appreciated, starting with how am I going to get from staging onto the scene?