CPT and Santa Fe - N - Upstate Gator
From LdsigWiki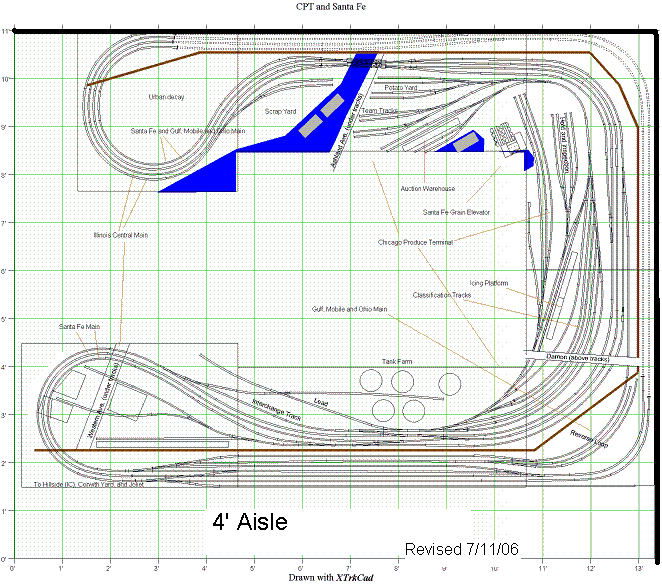 CPT and Santa Fe
This layout is based on the Chicago Produce Terminal Railroad located between Ashland and Western and between the Stevenson Expressway and the Chicago Sanitary and Ship Canal.

Here are the details:
N-scale
9 x 13 layout, top and right side are against a wall
Track--Atlas C55
Control--NCE DCC
Era--late 1950s
Operators--2 to 3


The Chicago Produce Terminal received perishables traffic from all Chicago-area railroads. Loads were bid on at the auction house; some cars were unloaded at the team tracks; others were consigned to points east. The CPT was switched in alternate months by the IC and ATSF.
Operating themes
The main operating theme will be transfer runs from many different railroads delivering loads to the CPT and picking up empties and loads consigned to points east. Transfer runs will originate and end in staging.


A second theme will involve passenger traffic on both the IC and Santa Fe mainlines. These trains will also originate and end in staging. There is a continuous running option so trains can orbit if desired. There may also be IC freight trains outbound and inbound into Chicago and transfer runs from Corwith to the downtown Santa Fe freight house (Yes, I realize I'm stretching the timeline by a couple of years).


There are additional switching opportunities provided by the terminal grain elevator and the tank farm. Additional industrial switching may be developed, but IMO the layout is pretty track heavy already, although the prototype was far more track intensive.


This is my first attempt at a track plan for this area. I welcome constructive feedback.


Thanks,
Upstate Gator


BTW--I have an Xtrkcad file and an image of a 1930s sketch of the prototype track arrangement if anyone's interested in seeing it. There are links to photos of the bascule bridge and grain elevator on my Kaboodle site. (http://www.kaboodle.com/superchief)


Track plan updated 02/17/2007
Givens
Room size: 12 x 20. Layout is 9 x 13 and fits into corner. The x-axis could be extended along the top for maybe 2', y-axis is pretty much fixed.
Layout height: 48"
Operator height: 70" (30" reach)
Scale: N
Track: Atlas c55
Location-: Chicago (Bridgeport)
Era: late 1950s
Minimum Mainline radius: 13 3/4"
Minimum switching radius: 9"
Maximum grade: 2%
Minimum turnout # mainline: #7 (crossovers #10)
Minimum turnout # industry: #5
Minimum staging track length: 5'5"
Average mainline train length: Freight, 16 40'cars with 2 roadswitchers or F-units. Passenger, 8 80'cars with 2 PAs or E-units
Control: NCE DCC
Druthers
Operators: 2 to 3. Solo operation on occasion.
Goals: See operating themes above.
I want to maintain high mainline traffic density while providing switching opportunities for 1-2 operators.
All turnouts manually operated except for top staging area.
Include junction with GM&O just right of the bascule bridge with a sneak off track into staging.