Cajon Subdivision - N - Austin White
From LdsigWiki
Greetings
Hello everyone, welcome to my modern day BNSF Cajon Subdivision page. Check back often, as i will be updating this quite often, found my camera so there will be pictures. The benchwork for my previous HO scale Scenic Sub is currently being torn down, i decided N-scale would be much easier to handle with the ammount of space i have.
Also, id like to thank Mark Lestico for all the help in designing both this layout, and my previous HO scale Scenic Sub Layout. He has been a huge help, without his help and design skills, i would have never gotten this far.
Layout Plan
Era: Modern Day BNSF
Room Size: 24' x 14'
Scale: N-scale (1:160)
Roadbed: 3/4 inch plywood with layers of foam on top for scenery, cork roadbed on top of that for the tracks.
Control System: CVP Easy DCC, 5 throttles, 4 power districts
Crew Size: 6-9 members
Mininum Radius: 18 in turnbacks
Average Train Length: 10-12 feet
Staging Capacity: 12 tracks at 10 feet each
Track Height: 56 inches off the floor, actual benchwork is 48 inches/
Track System: Atlas Code 55 Flextrack
Minimum Turnouts: number 7 used throughout the whole model railroad
Turnout Control: Caboose industries ground throws
Operations: Verbal Track Warrants by dispatcher via 2 way radio
Car Forwarding: Car Card/waybills
Aisle Widths: 30 inches
Layout Plan
UPDATED
I have recently decided to stick with a single track version of the Cajon Pass. So its like a freelance/prototype. Single track was selected for better operations.
Thanks to all the help from Mark Lestico, this plan was redone within a matter of hours. Thanks Mark!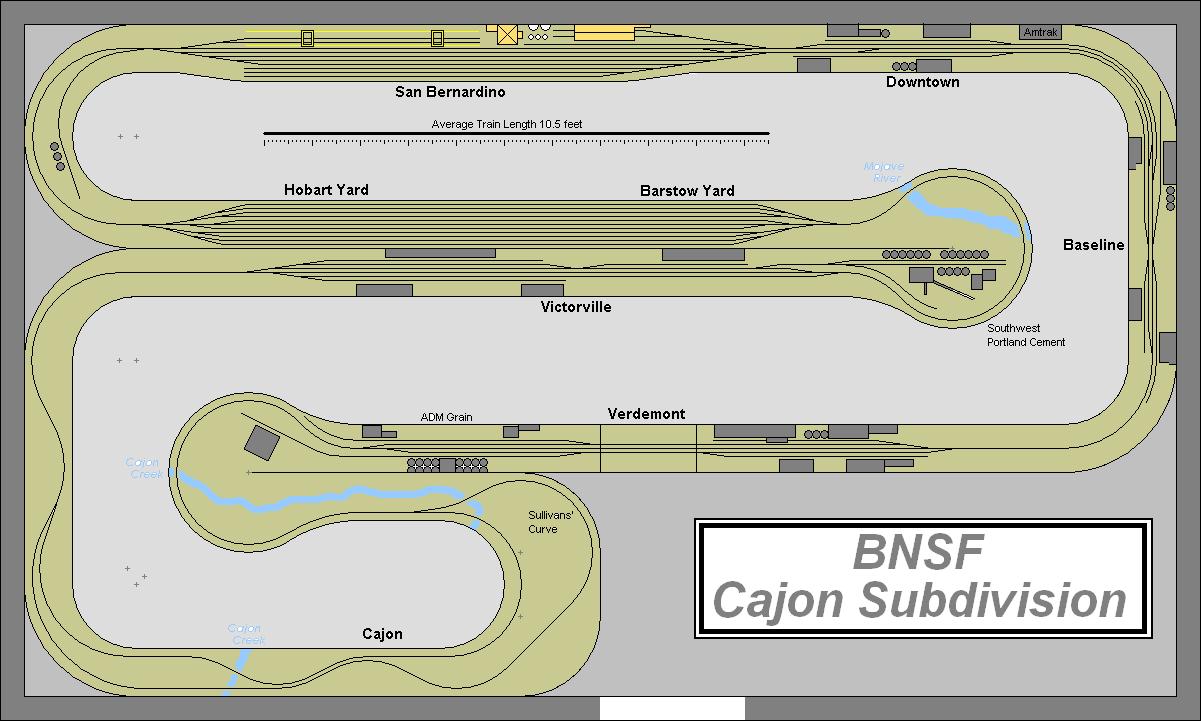 Preparing The Layout Room
Framing For Extra walls that are needed: There will be support walls framed of 2x4's The big empty area will be used for storage.
Storage Room: There will be a 12' x 4' Storage Totally Separate from the layout room.
Floors: There will be UP grey Carpet installed throughout the layout room, for a comfortable surface. This will also make it easy to clean with a small shop-vac vacuum.
Temperatures: There are two windows in the layout room, one will be used for a portable air conditioner. The other for a portable heater in the winter.
Layout Arrangement
Yard Placement: San Bernardino Yard, Hobart staging, and Barstow Staging were all placed in the same aisle. The reason for this is to only allow the Staging Boss and Yard Master into this aisle. By having them in there, this keeps the congestion in the operating aisles to a minimum.
Downtown: The Downtown area will be the "industrial district" in the layout. It has one long siding which will be used for both switching moves, and for through trains to sit in idle if there is too much congestion in San Bernardino Yard.
Layout Entrance: The layout entrance was origanally planned to be put there Sullivan's Curve is. But after some thought, and advice from Mark Lestico, who has helped me greatly throughout the design process of this railroad. We decided it would be better suited towards the middle of the town of Verdemont
Verdemont: Verdemont is another one of the towns that are out along the railroad. It has two long sidings for switching and meets. The main industry in this town is the famous ADM Grain Facility. In all there will be 4 industries here, the other 3 are in the process of names.
Sullivans Curve: Sullivans Curve is famous on the real Cajon Pass and i have always loved to watch trains at this spot. I think this spot will be a nice place to raifan on the model railroad as well. Im hoping my scenery comes out as nice as the real thing.
Mormon Rock Cut: This place will be a tough place to model, as it will be hard to get the complicated rock cuts to come out good. But after theyre done, hopefully they look nice and are on of the key spots on the model railroad.
Victorville: This will the biggest town on the whole railroad. it will have two sidings, one extra track that can be used for storage, 5 spurs, and 5 industries. Including Southwest Portland Cement, which will be a very large cement plant.
Benchwork Construction
The benchwork will be held up by shelf L brackets. For the pininsulas. they are held up by leveled, and even 2x4's, the shelf brackets are hanging off the side of the 2x4's. there are 1x2's going between each shelf bracket. the playwood was then laid on top of the 1x2's this makes the design extremely sturdy.
Questions Answered
Why I Decided To Switch To N scale: As Mark Lestico's pages says, N-scale models are nearly equal in quality and detail with HO scale. With N scale you can fit a lot more in less space. Plus the scnery dominates instead of the trains dominate. to make a realistic looking cliff in HO scale your ceilings would ahve to be much higher then with N scale.
Fascia Color: The fascia color will be some kind of black. The reason for this is because BNSF H3 paint scheme has a black paint in it. But the main reason, is because black causes the eye to be drawn towards the layout and the trains, not whats underneath it.
Curtains: I will probably be putting some kid of curtain up. Nothing too expensive, probably just some cheap black fabric to hide all the stuff underneath the layout.
Motive Power
BNSF: BNSF will have the majority of the locomotives in there colors. There will be a large variety, in many different colors. I have a few BNSF locomotives already, 2 in Heritage II scheme, 1 in swoosh scheme, and one in BN whiteface. I plan to have a large variety of colors including BN Green colors, BN Cream Colors, BNSF Heritage I, II, and III(swoosh), SF Warbonnet, SF Blue and Yellow Warbonnet.
UP: Union Pacific will share trackage rights here and will have a few locomotives. Union Pacific will be mainly C44-9W's from Kato. But im planning on buying an SD70ACe in UP colors as well.
There will also be a few other roadnames, as i buy more engines. Probably a few NS, and CSX locomotives will also show up on the railroad occasionally.
Rolling Stock
The rolling stock will have a wide variety, including well cars, piggybacks, coal hoppers, cement hoppers, covered hoppers, various tank cars, boxcars, gondolas, flatcars, reefers, and auto racks.
There will be many different roadnames, including BNSF, UP, CSX, and NS.
The Main Lines
The mainlines have been reduced to one with passing/sidings. There will be a Track Warrant picture up soon.
UPDATE AS OF DECEMBER 4TH, 2008
There is an update, all of the benchwork has been finished for about a week now. I am hoping to get, or get the money to purchase a CVP Easy DCC system for christmas. After that is purchased, i already have all of the track i need to get about 3/4 of the layout finished. Pictures will hopefully be coming soon. Stay tuned.
UPDATE AS OF DECEMBER 26TH, 2008
For christmas, i decided just to ask for some more locomotives and rolling stock. I will be getting the CVP system during the end of the month of Feburary. Im hoping to have my first operating session during the month of August, if not, i will have to reschedule it for probably a month or two later. No pictures yet.