Durango, Rico & Northern - Sn3 - Pat Yupours
From LdsigWiki
THE RAILROADS HISTORY
The Durango, Rico and Northern Railroad was conceived in the late 1800's as part of a network of rails and stagecoach lines designed to tie together the mountain ore towns between Durango and Rico and points North originally surveyed by Thomas Wigglesworth in 1881 for the Denver and Rio Grande, the route is generally believed to be the product of Otto Mears as part of the Rio Grande Southern. The line left Animas City, North Durango, ran severval miles up the Las Animas River Valley, then up the North fork of Hermosa Creek and down Scotch Creek just South of Rico. From there, it followed the Delores River, through the Lost Canyon and over Cimas Pass and then back to Durango. Although the Rio Grande Southern did build from Durango to Ridgeway via the Delores River route surveyed by Wigglesworth, the Rico to Rockwood branch was never built and remained a stage line and later a logging road.
---
The Denver and Rio Grande already had a existing line from Durango through Rockwood and on to Silverton. The Durango, Rico and Northern would have ran from Rockwood to Rico via Hermosa Park, then the East fork of Hermosa Creek, then down Scotch Creek, to Scotch Creek Junction with the Rio Grande Southern. It is this branch that is being recreated and modeled here on this web-site and in SN3 as it would have appeared in the years spanning 1940-1949 in Southwestern Colorado.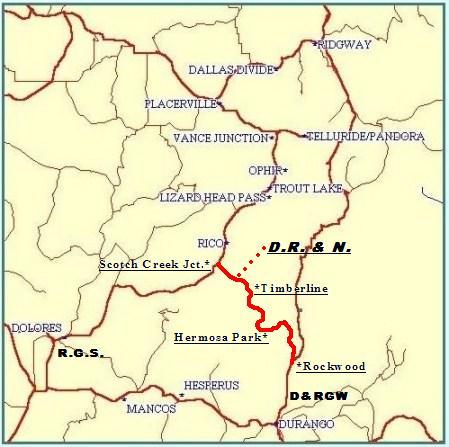 ---
The DR&N, all it's references and descriptions are based on research material from the Rio Grande Southern construction as well as the Denver and Rio Grande during the 1890's and later years. During its construction, the DR&N had enough foresight to lay 50 pound rail, build heavier bridges and more adequate grading than was needed in 1891. This foresight paid off as the line was able to utilize its own C-16's and the heavier K-27's it leased from Denver and Rio Grande over the years.