Espee Bay to Bay, From the City to Santa Cruz, CA - N - Enzo Fortuna
From LdsigWiki
Evolution
The plan is "evolved" under the way, following my experience path in more realistic valuation of my skills, preferences, and .... (why not?) a better understand of tracks laying "art" (on real RR's and by moedlling point of view).
The above article is the second of a series of 3.
The first article in the story is at: http://macrodyn.com/ldsig/wiki/index.php?title=San_Francisco_Commuters_and_Santa_Cruz_Mountains_-_N_-_Enzo_Fortuna
Last one (I'm preparing the room at the moment) : http://macrodyn.com/ldsig/wiki/index.php?title=Bay_to_Bay%2C_2008Plan%2C_CA_-_N_-_Enzo_Fortuna
Time is doctor
Following my previous try for a layout that will depict the San Francisco peninsula and Santa Cruz Mountains, and before to start the work on tracks definition, I've spend some more time thinking in detail the "flyover" I've done and …. Ok, everything is "evolving" on this planet! Here is the result of the evolution process : a different layout design.
A growth path take to a different approach
As you can note above, here I've taken a different approach: the layout now is basically a "single layer" , "around the wall", and on the Santa Clara / Lenzen Ave. zone a "mushroom like" configuration appears. For the previous plan, refer to: http://ldsig.org/wiki/index.php/San_Francisco_Commuters_and_Santa_Cruz_Mountains_-_N_-_Enzo_Fortuna

I want spend my two cents to explain the reasons why I changed the previous design, just because maybe my consideration can be useful to others "starter" dreamers.
As soon I've all the main design clear in my mind, I start to figure the single steps to build my project. I take some blank paper in one hand and start to write a list of … do "this" before, and "that" later and so on. I've noted also a "predicted" time needed to complete each step, and calculated it as a "one man" hours…. I can't repeat here what was the grand total! Considering that I'm still working and my spare time is limited to "after lunch time" and weekends …. The figure I've calculated ….means I was able to run trains in my next life!
In the same time I've started to find friends to share my interest, friends to create a "crew" to run trains on the layout and … you know. As I've stated before on this Wiki pages, I'm living in Italy and, believe me, find some US trains fans that live in the … 30-40 miles (?) range is a hard ( if not impossible) job. Italy is a lovely place, but too narrow and too long!
In the middle of my search of I've open also a "virtual" place (a forum linked in my web site) to collect Italian US-RR modelers around an ITA-USA flag. This experience (apart to find some friends) tell me a .......

"Basic" statements :
- design something I can do and run as a "lone wolf" in a reasonable time
- Considering the "standard" crew and the "occasional" one for operation and adapt the plan to this environment. ( my operation possibility is to play "occasionally" with a "consistent" 3-4 additional gamers.
- Balance my skills and my favourite part of the Hobby : I like scratch build structures, build scenery, add details, experiment automation, DCC and Signals... and I don't like cut wood, run trains in a "furniture manufacturing" scene for a long time.
- Given the mainly solo operation, have some emphasis to "switching, train preparation and run a trip" but maintain the layout ability to have time-scheduled sessions.
Still standing items and changes
Shorting a long way, here my "given":
Still considering the SF-SJ commute corridor in the "around the WWII" years as my favourite theatre.
Main game here is to play some "tight scheduled" morning / night commutes and intermix some freight "extra's" as well some long run daily passengers or "football specials" trains.
Lone wolf job can be limited also to freight preparation and relative switching in a busy yard and local industries.
Passengers consist are made by classic commutes 60' Harriman's as well 72' and 80' heavyweight and a consist of the first colourful Daylight.
The City's chosen location ( 3rd & Townsend Mission style Station and Mission Bay freight yard and Roundhouse ) give the opportunity both to scratch building models and supply big operation variables for a never ended story.
Still considering to model the Los Gatos to Santa Cruz branch, freelancing the line closure to years after the war. This is mainly because I've spend several years living in these places and I like a miniature revival in some way.
Branch line traffic is not heavy, but interesting both by a modeller and operational point of view.
Passengers traffic is very low but "historically" interesting: Del Monte and Suntan Special are the VIPs but some Sunday extras can add emotions.
Freight service is connected to local industries (rock quarry, an old sawmill in the mountains and local products as fruits and canned stuffs, timber to local resellers, etc.).
A Narrow Gauge sub-branch from Felton to Boulder Creek seams surviving from a previous design but … the Espee standard gauging of all the line is on the way….
I have just one 4-6-0 steam and some rolling stock in the Nn3 scale so maybe a double gauge tracks line up to the mountains give more possibility (SP have done as "temporary" solution too) adding in exchange some hand-laying track work.
In general
A single layer design simplified my "hard" work as carpenter.
I was never able to reverse the entrance door to outside, so any lifting bridge plan in the area from the previous design was simply throw down.
Some pieces of real estate are consequently given back to the "Central Government" (storage for "leave here for the moment" family stuffs) and to the "Mechanical & Electronic Division" (my workbench have a better PC/CTC/DCC programming place as well scratch build/painting area).
A "purist" can note a strange junction track between the line before Santa Clara and .... Menlo Park! This is a "modelling license" to obtain a continuous run loop (for a train watching time sometimes). This track will be "hidden" under trees and buildings, so I hope is not so evident!
Staging: Given the "point-to-point" design two staging areas are the best. Again I compromise something:
On the stub side I leave only stub and freight yard tracks as "visible" working staging.
At the end of commute line in San Jose i will use one shelf of a library (cutting a tunnel entry in one side) and have a real staging area with some tracks to prepare "actors" for the scene.
Local freights running from San Josè to Santa Clara use the visible yards as staging.
OK …. See here above my effort
LAYOUT TRACK PLAN
News from the "Frontier":
Last weekend the "Government" had released some additional "land-grant" to the Espee Board of Directors. Espee have announced immediately some improvement on the Coast Line Division ( read as "Staging").
Dressed with scenery: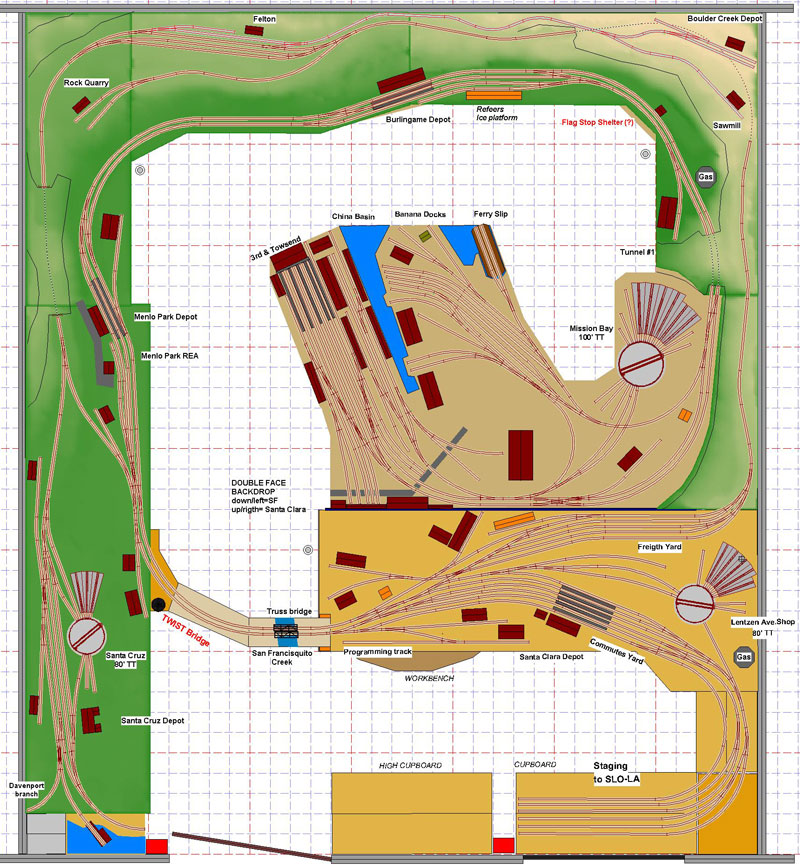 Just the tracks: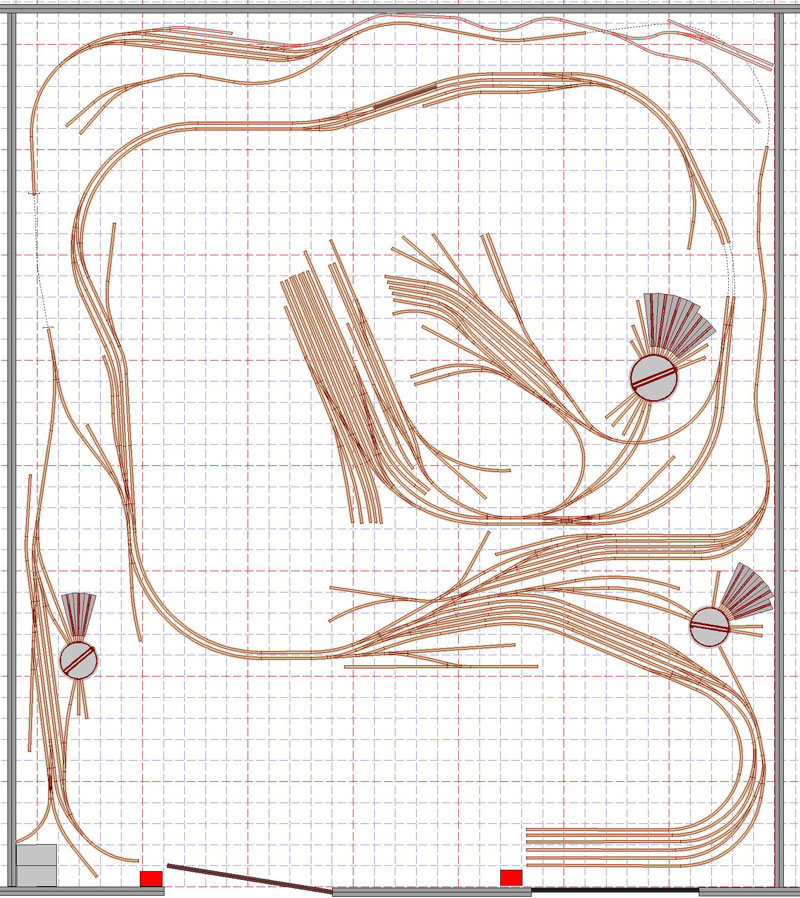 Prototypes
Real world: San Francisco yards:
Real world: San Jose yards:
Layout Data
On the drawing , consider :
N scale , one grid square is 10 cm = 4 inch
Main Line uses Microengineering code 55 flex
Branch line uses Microengineering code 40 flex
Minimum Radius on Main line ( internal track) is 56 cm ( 22")
Minimum Radius on branch line is 44 cm ( 17" 1/2 )
Double track main line length : 10m (33')
Single track branch line length : 8,6m (28')
Narrow gauge branch (double gauge tracks?) : 4m (13')
Turnouts references are for FastTrack turnouts I plan to use:
SF Passenger stub , Santa Clara and Santa Cruz uses #6 turnouts , #8 double slip and #8 curved 24-18 (internal-external radius in inches)
Mission Bay and San Jose Freight yard uses #4 turnouts, #8 double slip and #6 curved 16-11 (internal-external radius in inches)
Longest track on 3rd & Townsend : 110 cm (43" ½)= 9x60'commutes or 7x80'
Longest track on Santa Clara commute yard : 120 (47 " ¼ )
Longest track in Santa Cruz : 85 cm (33" ½ )= 11x40' box cars or 7x60' commutes
Longest track in Mission Bay freight yard : 110 cm (43" ½) = 14x40' box cars
Longest track in San Jose freight yard : 110 cm (43" ½)

This figures takes to a "running" train length of:
Commute line: 5-7 60' cars and loco / 4-6 80' and loco
Main line freigths: 10-12 40' cars + caboose + loco
Branch line passengers: 4-5 cars and a loco
Branch line freigths: 7-8 40' car + caboose + loco
N scale shortcuts
To image trains length , use this shortcut:
100 cm = (10 x 40' box cars + a Mikado) or (6x 60'+ a Pacific) or (4x 80' car + a GS4)

N Scale car length:
40' box car = 7,6cm ( 3" )
60' commute = 11,3cm ( 4" 1/2 )
72' passenger = 13,8cm (5" 1/2)
80' smothside streamliner = 15,3cm (6")
Some "virtual" 3D view of the room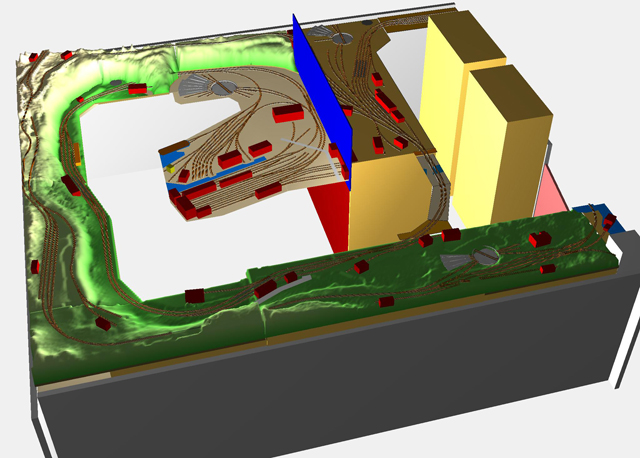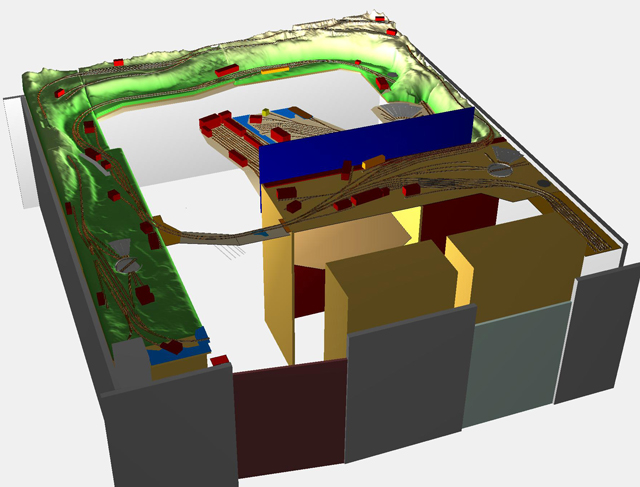 And my "open points" list:
Occasionally I would like to sit and watch a freight running around:
What about a single track connection between lines from a point before Santa Cruz and Menlo Park (despite not "geographically" correct) ?
Narrow Gauge line: Double gauge tracks ?
A "pen" friend suggest a flag stop shelter somewhere to add interest to commute service. The only place I've found is on the way between Tunnel #1 and Burlingame. Seams correct?
For the bridge crossing the room before Santa Clara I have in mind a metal structure beam, covered by plywood and scenery, that can "twist" centred on a fixed point at left . Some tricks?
In general … taking in consideration -> 99% of steam power – mainly 36' & 40' freight cars – 60', 72' passengers cars take 80% of traffic volume....
GENERAL DESIGN seams acceptable?
Yard design have some operational defect? ( I'm not an operation expert, so I've try both to replicate the main shape of real thinks and practice the "Ten Commandments of Model Railroad Yard Design")

Any suggestion on additional topics not considered here will be welcome.
Thanks for your time and , in advance, for any question or proposal.
Cheers
Enzo Fortuna
http://xoomer.alice.it/enzo_fortuna/
Or contact me : email