FEC Key West Terminus - N - Mark Fredrickson
From LdsigWiki
This is a 3' x 6' switching layout based on the 1920s era Florida East Coast Railroad's Key West Terminus. There is a wye, a Passenger Station on the Havana Dock, a car ferry slip, and a classification yard. More aspects of the Key West terminus can be seen by following the link to the blueprints found here:[1]
Here is a view of the track plan I came up with.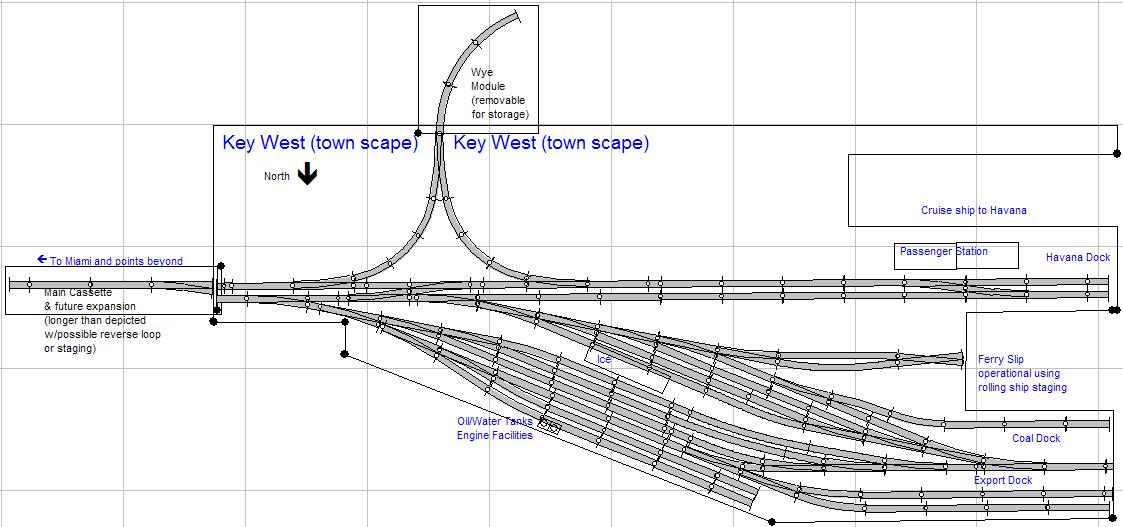 Givens:
Room size - 13.5' x 25' only half available for my use (13.5' x 12.5')
Modular Design - I need the ability to dismantle the layout for storage if necessary
Room doubles as my home office and office furniture/computer cannot be compromised.
Druthers:
Passenger station
Modeled ships (car ferry, cruise ship, & possibly a freighter)
Car Ferry = staging
Classification yard
Engine Facilities
Mainly I want a decent operational representation of the Key West Terminus of the FEC.
Changes Made & Future Plans
I made a few changes to the first plan adding engine facilities, Coal/Export dock tracks, and the view showing how the cassettes will be included in the plan. I'm still planning to build the overseas portion of the Florida East Coast in modules. Planned modules to follow will model the Bahia Honda Bridge, & a selectively compressed Long Key Viaduct (7 mile bridge).
Operations
 • 2 Passenger trains per day
   o 1 local – 3-4 car + RPO
   o 1 Express – 4-6 car to Miami & points beyond (New York)
 • 2 car ferries per day
   o Reefers loaded with agricultural products to Miami & points north
   o Empty Reefers to Havana/other Latin American Countries/Panama Canal
   o Other cars
     - Box cars
     - Flats
     - Others? (any ideas?)
 • 1 Water Train – Flat cars with water tanks
 • 2 trains with empties for loading onto car ferries
 • Other trains 
   o delivering Coal to coal dock 
   o Box cars to export dock
   o Engine servicing supply deliveries