IAIS Grimes Line - HO - James McNab
From LdsigWiki
The HO Scale IAIS Grimes Line is a prototype layout that accurately depicts the Iowa Interstate's Grimes Industrial Track in the Greater Des Moines Area.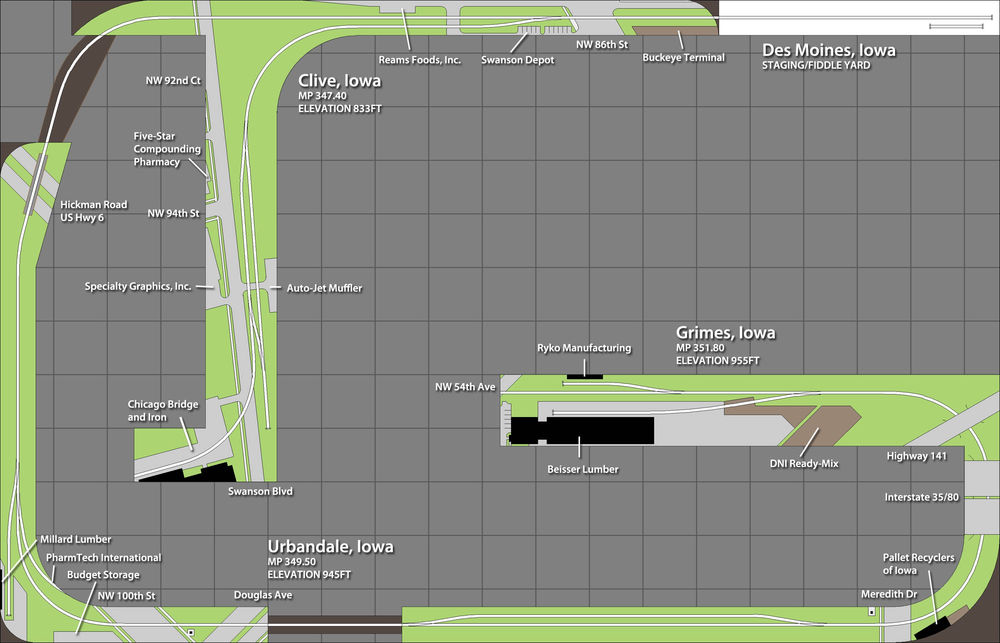 THE LAYOUT AT A GLANCE
Name: IAIS Grimes Line
Scale: HO (1:87.1)
Size: 12' 0" x 18' 8"
Prototype: Iowa Interstate Grimes Industrial Track
Locale: Greater Des Moines
Era: September 2008
Style: linear walkaround
Mainline run: 52 feet
Minimum radius: 22"
Minimum turnout: no. 6
Maximum grade: none (level)
Benchwork: open grid
Height: 58"
Roadbed: extruded foam
Track: code 70
Scenery: joint compound over foam
Backdrop: aluminum flashing
Control: CVP EasyDCC

GIVENS AND DRUTHERS
-This is a "tie for tie" recreation of the Grimes Line as it appeared in September 2008. No track or customer has been left off. All major roads have been modeled/represented.
-Our basement is 80+ years old and features several obstacles. Benchwork will cantilevered from the ceiling joists since the walls are very uneven. Peninsulas will be open grid.
-Liftout sections in front of the electrical panel and the laundry room will not be in place except during operations.
-As much space open as possible for passage from the stairwell into the laundry/utility room.
-The standard benchwork width is 8 inches. The two peninsulas are 16".
-The one pinch point for aisles is 24". The rest is 30" minimum, with some 4' and 6' thrown in for good measure.
-Track will be ME Code 70. Frogs will be unpowered. Track will have easements but no superelevation.
-Track will be laid bare on the foam.
-Turnouts and uncoupling will be manual using skewer sticks.
-No control panels, turnout controls or car card holders protrude into the aisles.
-One train (yes, one train) will be the maximum power on the line. It's a branch after all.
-Control system is wireless.
-Lighting will come from overhead CFL's with a full valance.
-Grid is 12". Plan was drawn in XtrkCAD.

OPERATION OVERVIEW
No. of Trains: 1 (NTSW aka "The Tramp")
Maximum train length: 5 feet (5 cars plus loco)
Power requirements: Single Unit GP-38
Cars Types: 50' & 60' Box, 60' Bulkhead Flat, 72' CenterBeam
Ops Method: Prototype Yard Reports/Switchlist

Customers:
Chicago Bridge and Iron (Steel Plates In)
Millard Lumber (Dimensional & Dried Lumber In)
Beisser Lumber (OSB/Dimensional/Dried Lumber In)