LDSIG Layout Tour
From LdsigWiki
Revision as of 19:06, 11 July 2006; view current revision
←Older revision
| Newer revision→
LDSIG Layout Tour
After the LDSIG Meeting on Wednesday (Reported elsewhere on the LDSIG WIKI), over 80 of us went cruising around Delaware, New Jersey and Pennsylvania looking at some wonderful layouts. The hosts were very gracious and answered numerous questions regarding layout design and operation. Here are a few photos.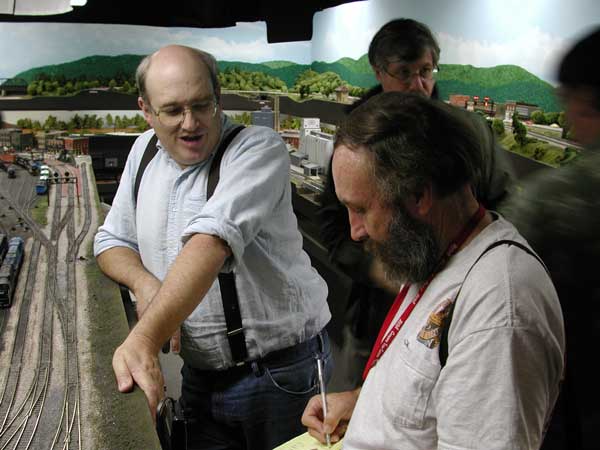 Bruce Morden interviews Ken McCorry about his layout design.
The LDSIG layout tour is held at each NMRA national convention, which is in a different city each year. We spend Wednesday carpooling around to a select few layouts (14 in 2006) where we can take our time to thoroughly inspect the layout and talk to the owner about layout design issues. Partway through the tour we have our picnic, where we can socialize with other members of the LDSIG and have a leisurely visit at the host's layout.
In 2006 four of us rented a car for the day at a cost of $15 each, including gas. The picnic ticket includes an excellent catered luncheon buffet served in a tent.
In contrast, the layout tours offered by the convention typically visit three layouts for 30 minutes each using a bus and cost $15 to $40 per person.
Upcoming cities are:
2007: Detroit, Michigan
2008: Anaheim, California
2009: Hartford, Connecticut
2010: Milwaukee, Wisconsin
2011: Sacramento, California