Minnesota Transfer Railway - HO - Stein Rypern
From LdsigWiki
Introduction
The Minnesota Transfer Railway (reporting mark MTRY) was a switching and terminal railroad in the Twin Cities of Minneapolis & Saint Paul in Minnesota. It was owned jointly by no less than nine class 1 railroads, and a lot of the traffic of the MTRY was interchange between the owner railroads.
The MTRY also did local switching for quite a few industries located along its line, and operated a common LCL (less than carload) warehouse complex for several of its owner railroads.
My model is based on the MTRY ca 1962 or so - all diesels (mainly short wheel base switchers), mostly 40 foot cars.
What I want to model (in a small room - 11.5 by 6.5 feet, so it takes a _lot_ of selective compression :-) is:
Some yard switching - receiving transfer runs from other railroads, breaking up and putting together trains for transfers/interchange, and having other roads come pick up new trains for them and
Some setting out and picking up cars from local industries.
I expect this model railroad to normally have 1 operator (me :-), perhaps a maximum of two (me and one of my young sons, or me and a friend).
Givens and druthers
Givens
The available room is pretty small. 11.5 x 6.5 feet. Or 353 centimeters by 200 centimeters, since I think in metric and have to get out my calculator to convert to inches and feet.
Quick conversion : 10 centimeters (1 tick mark on the plan axis) is about 4 inches.
There is a door in the lower right-hand corner of the room. The door opens out (after a tiny little change while the missus was out of the house :-)
It must be possible to move in and out of the room without a duckunder - hence track across across the fold down leaf in front of the door must cross the line between benchwork and leaf as diagonally as possible.
There is a chimney in the upper right-hand corner.
The room also has to be used for storage - so I am going for a around-the-wall shelf layout about at face height while sitting (chest height while standing), with space for storage below the layout.
Druthers (preferences)
The landscape I am modelling is mainly flat industrial/suburban, midwestern USA. My focus is getting the operations right, not so much how the landscape will look.
Minimum curve radius on mainline: 45 centimeters (18 inches).
I want to use Peco flextrack code 75 - for several reasons: it isn't too expensive, it is decent enough quality and finally: it is available locally - I live in Norway, in Europe. There isn't that many hobby stores around where I live that stock non-Märklin track. It is a drag when you lack a few pieces of track to to have to order it from America and then have to pay for shipping, plus wait. Turnouts are Peco Medium turnouts (no 6 turnouts): SL-96/196 Left Hand , SL-95/195 Right Hand. Double slips are Peco SL-90/190
Engines will be fairly early diesel switchers and road switchers - RS-3s, S1s, GP-7s, HH16-44 - no long wheelbase steam engines. An average engine is about 20 centimeters (7.8 inches).
Freight only. 40 foot cars, no long wheelbase cars. A 40 foot car is about 14 cm (5.5 inches) long in H0. Car types: covered grain hoppers, boxcars, tank cars, stock cars, reefers, open hoppers, gondolas, flatcars.
Train lengths : engine+4-6 cars+caboose on locals, engine+8 cars+caboose on interchanges.
Types of local industries: Brewery, Furniture factory, Textile plant, Transload/Warehouse (LCL), Oil tank farm, Concrete plant, Flour mill.
Cabooses will still be in use - caboose length is about the same as a 40 foot car (or a little less).
I want switching and reasonably realistic operations for myself - but with the possibility of letting a train just run around the layout more or less on autopilot for trainwatching for visitors and for my boys (age 5 and 8).
Layout proposal 08 - double loop, hidden staging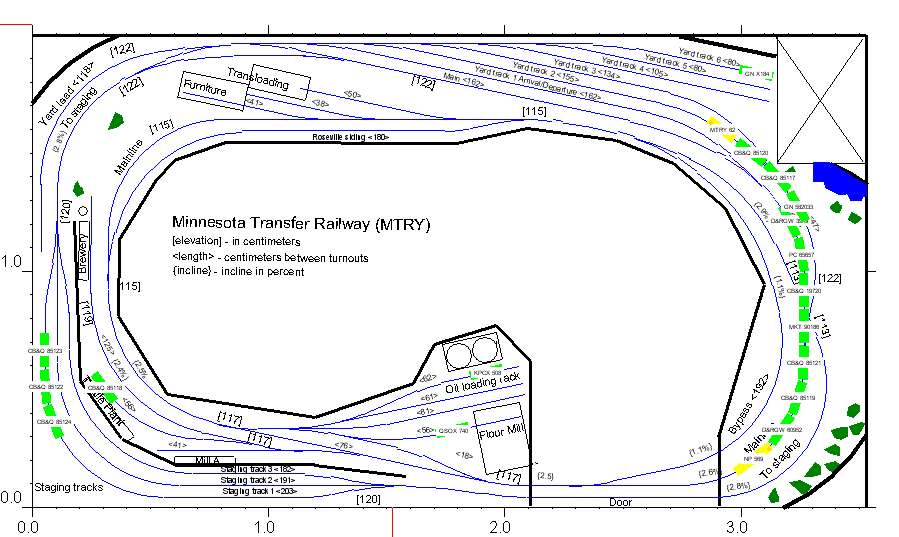 Changing the mainline to a double loop around the room - about 14 meters (42 feet) long
Three hidden staging tracks (lengths 180-204 cm / 70" - 80") - used as both south and north staging. Any of the staging tracks can be used as part of the mainline for continuous running.
Track height varies from 113 cm (44") to 122cm (48") above floor level.
Layout depth 50 cm (20") or less all along the layout
10 industry tracks, all south of yard.
One passing siding (upper wall, innermost loop) at 180 cm (70")
One short runaround track at the flour mill/tank farm industries - room to run around 5 cars.
One "bypass" track at 192 cm (75") - lower right corner, making it possible to have continous run on only the innermost loop.
Yard has three double ended tracks - track 1 (162 cm) and 2 (155 cm) are long enough for an entire train of engine, 8 40' cars and caboose (147 cm), track 3 can be used as a runaround track.
Yard also have three single ended tracks off the yard ladder.
Yard lead is long enough for switcher and 6 or 7 40' cars - and does not cross or foul main.
Trains cannot enter yard from the north (clockwise) while switching is underway, but can enter track 1 or 2 from the south (counterclockwise) or leave track 1 or 2 towards the south (clockwise) - and most trains will be coming from or going south - all industries are south of the yard, and most interchange traffic.