Oakland Harbor Belt - N - Byron Henderson
From LdsigWiki
The Oakland Harbor Belt is my proto-freelanced N scale model railroad set in 1955. The layout is under construction now and will include scenes around the Alameda and Oakland, CA areas, with an emphasis on yard and industry switching. The first phase is now beginning in a spare bedroom / home office space.
The long-term larger layout will share my roughly 20'X22' garage with a family car. Many more details may be found online at: http://www.hendoweb.org/ohb .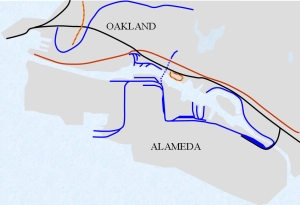 Layout Details
The layout is a multi-deck design, but the connections between decks are primarily conceptual, not physical. For example, trains moving from one switching district to another may actually enter staging on one deck with a similar consist emerging from staging on another deck. Thus, the decks are linked via operating concept and staging, not by a helix or other steeply-graded trackage.
Operations on the layout will be focused on terminal and switching operations. There will be few or no "through" trains as such, instead transfer runs between districts and connecting railroads will provide for car movement between the visible layout and staging representing "the rest of the world".
Alternative History
The OHB is imagined to be jointly-owned by the Western Pacific and Santa Fe railroads (as were the real-life Alameda Belt Line and Oakland Terminal Railway). In my alternative history, the narrow gauge South Pacific Coast was not gobbled up by the Southern Pacific, but survived to standard-gauge itself. When the WP/ATSF bought the struggling SPC, the remaining trackage was combined with other properties to create the Oakland Harbor Belt. You may read more detail on my imagined history online.
Current Status
Construction is proceeding slowly, with work begun on the Brooklyn Basin segment in the office: http://home.earthlink.net/~hendoweb/ohb/id17.html