Ouachita & Mississippi Valley, Merril, AR - N - Rhett Graves
From LdsigWiki
Merrill, AR is a fictitious town on the Mississippi River, opposite Greenville, MS. Prior to the 1930s, the O&MV ran a car ferry service across the river to connect with the Columbus & Greenville. The "old ferry main" is all that remains of that operation, but is used as a switching lead for the large Delta Cottonseed Oil Mill. In the 1930s, the Arkansas & Gulf Railroad built a bridge across the Mississippi River at Merrill, rendering the ferry obsolete. The O&MV interchanges with the Arkansas & Gulf Railroad and the Columbus & Greenville in Merrill. The latter reaches Merrill over trackage rights from the former.
The yard at Merrill is used to make up two dispatch freights and one local each day. Because the yard is the eastern terminus of the railroad, there are no eastbound trains departing from Merrill. All eastbound cars are delivered to the C&G interchange. Both the ARGU and C&G bring cuts of cars to the O&MV at the west end (left) of the yard. Below is my most recent track plan for the O&MV yard at Merrill, AR. My first attempt at designing this yard is shown for reference at the bottom of the page.
Current Yard Design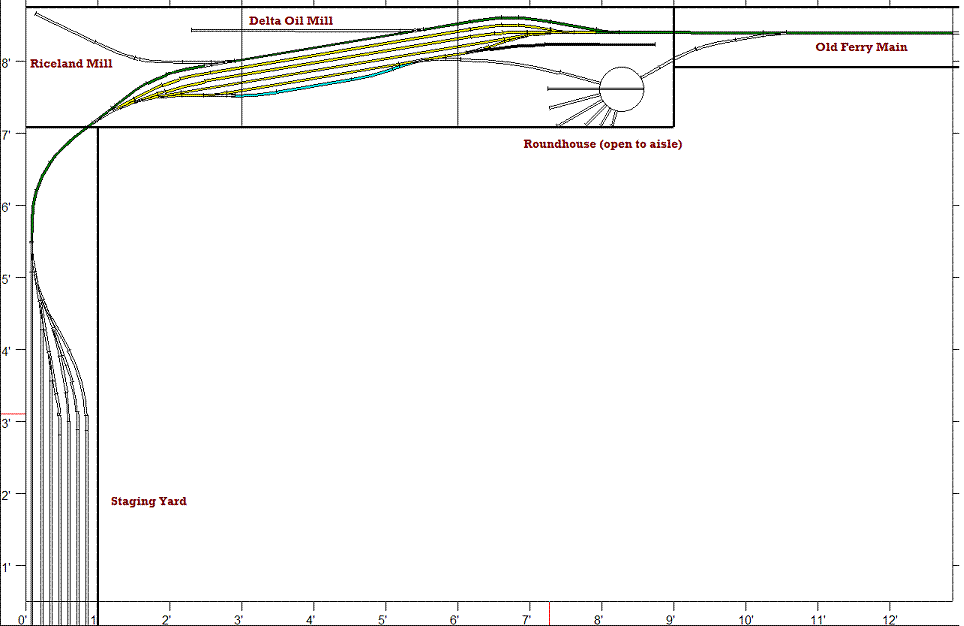 Legend - The yellow tracks are the classification tracks. The green track is the main line (to staging) and is also used as an A/D track. The cyan track is the caboose track. The black track is the RIP track.
Original Yard Design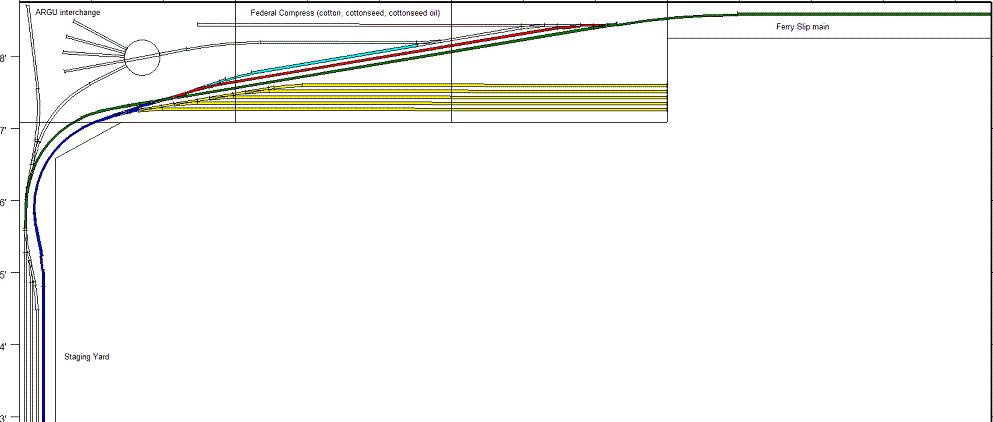 Design Philosophy Shift
Some folks have asked why I would eliminate the Arrival/Departure tracks and switching lead from my yard design. Others have wondered why I changed from a stub-ended yard to a double-ended yard. The answer is "because that's the way the prototype did it." Now the Ouachita & Mississippi Valley exists only in my mind, so I had to borrow from other railroads that had a similar plight: that of a small Southern railroad with bridge traffic. I selected the Columbus & Greenville, Mississippi Central, Meridian & Bigbee and Tennessee, Alabama & Georgia as similar railroads from which to draw inspiration. Below are links to aerial photographs of their yards.
C&G Greenville Yard (or what's left of it)
MC Natchez Yard (what's left of it, the green area used to be the yard)
As you can see, all of these yards are three- to five-track, double-ended affairs. None of them have dedicated switching leads or arrival/departure tracks. Seeing this forced me to change my design philosophy from what has become "good yard design practice" to prototype emulation. After all, emulating the prototype is what the hobby's about, right?
Please be sure to visit my entry in the Layout Projects section of this Wiki. I'll be posting updates to the layout's progress there.