Railroad with no name - N-scale - J. Douglas Fisher
From LdsigWiki
Objective: To design a model railroad in the space provided below.
Areas beyond green hash marks at A and B can be temporarily used during sessions, but must be removed during non sessions. A can be any length, though B can only be another 3 feet at best.
Since urban railroading and switching are the main focus of the layout, the source of inspiration comes from Bill Baumann's Third Street Industrial District below (used with permission from Kalmbach publishing.)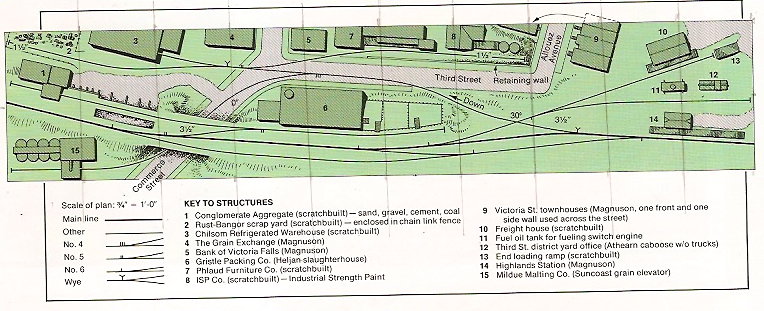 Admittedly, as it is drawn, for HO scale, this plan barely works, if you don't mind having space at the ends of the switching leads for 1 small freight car and a small locomotive. But..
We are talking N scale here, and the plan works well for N scale, for the most part. See Below.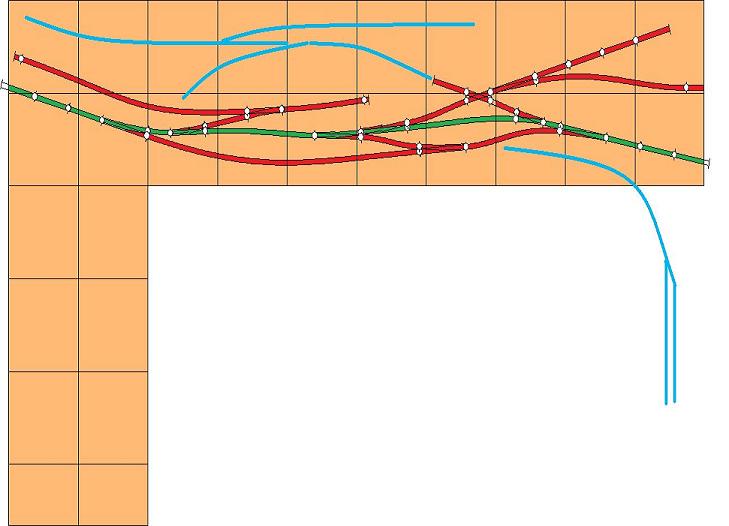 As can be seen, utilizing the same space, but a smaller scale, yields some better results. Notice the mainline (parent road, interchange road, etc.) is in Green, while the terminal railroad is in Red. Light blue is suggestive of trackage that would be in place, but I just didn't emplace on the design on Atlas RTS...
I placed a holding yard or interchange yard on the right side of the design, theory being that this would be the preferred place that interchange would commence in the mornings. (Afternoons, when the work was done, westbound cars would be placed in the yard, while eastbound cars would be left on the runaround to facilitate this movement.)
On the left side, I haven't decided what I am planning on yet in terms of track design.
Also, I have thought about perhaps wrapping the parent road's mainline to the left side to facilitate a longer lead, and to help eliminate that cross over in the middle of the plan.
As always, everyone's input is encouraged.
Below is my permission slip from Kalmbach allowing the use of the Bill Baumann's 3rd Street Industrial District for discussion. Thanks Neil...