Rio Grande Southern - Sn3 - Bill Beverly
From LdsigWiki
Prototype History of the Rio Grande Southern:
In the late 1860's there was a boom in mining in southwestern Colorado. Most of the ore was transported via ox wagons over very poor wagon trails. Between 1867 and 1886 a Russian immigrant named Otto Mears constructed toll roads between various mining towns and the mills that processed the ore. These toll roads would later become the roadbeds for some of the narrow gauge lines that meandered through Colorado. The Marshall Pass route of the Denver and Rio Grande Railroad was originally a Mears wagon road.
In 1889 Otto Mears started the construction of the Rio Grande Southern (RGS) from Ridgway in the north to Durango in the South, creating a narrow gauge line (3 feet between the rails) to the booming mining communities of towns like Placerville, Ophir, Rico and Telluride. When the Denver and Rio Grande railroads were standardized in the late 1880's, they were left with a tremendous surplus of narrow gauge equipment. The RGS purchased a large number of locomotives and some 900 cars.
Prosperity of the Railroad
The prosperity of the railroad lasted only a few years due to the silver panic in 1893. The RGS was soon placed in receivership under the control of the Denver & Rio Grande. The railroad survived as a subsidiary of the Denver & Rio Grande, using mostly second hand or leased equipment and with maintenance of the physical plant kept to a minimum.
In 1929 due to the financial crisis, the Rio Grande Southern was again placed in receivership and the Denver & Rio Grande Western lost its control. Due to light passenger traffic, it was too expensive to run steam passenger trains, so the RGS shops constructed rail motor cars from Pierce Arrow limousines. These unique motor cars where nicknamed the Galloping Goose and saved the railroad for several years.
In 1951 the end was near. Due to bad weather, floods, poor equipment and disintegrating track conditions, the courts where petitioned to suspend operations. The dismantling of the railroad began in 1952 with selling of equipment and pulling up the rails.
The RGS was only 162 miles long, but it transversed some of the most spectacular Rocky Mountain scenery with 4 percent grades, 142 bridges and reached an elevation of 8989 feet at Dallas Divide. It has been said that more books/per track mile have been written about the RGS than any other railroad. There are also dozens of web sites that provide information. One of the best is http://rgsrr.home.comcast.net/
Map of the RGS
Below is a map of the old RGS route: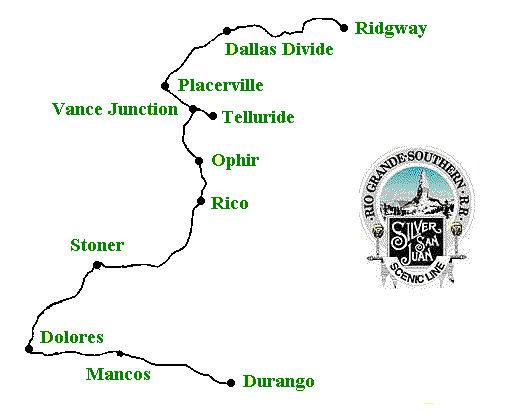 Time to Start Tinkering with Design Requirements
OK... Now that we have a little history behind us, it is time to start tinkering with a design concept. A few points I would like to highlight
1. I do not have much space, basically 6 feet by 16 feet. Sn3 takes up a little more space than HO, but not that much more.
2. The layout will basically be an oval, with an open space in the center. The end modules will measure 3'x6' and the runners will be 2'x10' (can be broken down to two 2'x5'). Each module will be designed in a shadowbox format.
3. The layout will need to be portable, I am hopping to bring it to local events that feature train layouts.
4. I will try to keep the radius at no less than 30. Switches will be #6.
5. The layout will have 4 scenes:
5a) the back 2'x10' module will be a Colorado lumber scene. The RGS serviced the New Mexico Lumber Co. logging railroad NW of Dolores and McPhee Colorado.
5b) the right turn 3'x6' module will be a mining operation. The RGS serviced a lot of mines up and down the route.
5c) the left turn 3'x6' module will be cattle and sheep loading and processing facilities. The RGS did a lot of business in the spring and fall with cattle and sheep runs.
5d) the front 2'x10' module will be a town scene with a train station and supporting buildings based on a prototype location such as Vance Junction, Placerville, Dolores or West Durango.
6. The track will be hand laid code 70 on wooden ties and scratch built switches using fast-track jigs.
Rolling Stock and Structures
My engines are PBL Foreground models with sound, I am slowly converting some to DCC Tsunami. I currently have an inventory of 3 K-27s, 3 C-16s, C-17, C-19, T-20, B-4F (RGS #74), a few Geese #4,#5 + #6, plus a WSLCo 3 truck Shay #15, 2 truck Shays #5 + #6 and a Heisler #2. I have about 2 dozen cars, all hand built from PBL kits or scratch built, no R-T-R on my layout.
Model Railroad Photography
One other aspect of the new layout will be Model Railroad photography. I have shot over 10,000 digital photos of my old layout and the club layout. I have had my pictures published in a few magazines and calendars, mostly those focused on narrow gauge railroading. So the new layout will be designed with an eye for photography.
Examples of what the scenes may look like
To give you an idea of the type of scenery I am after: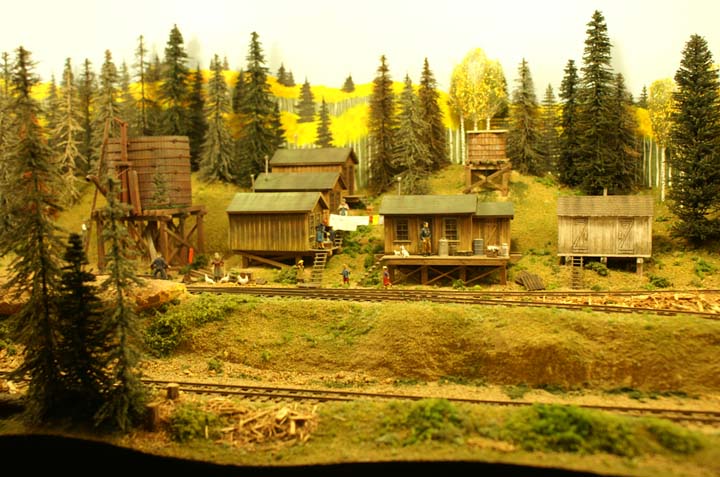 Example of a rear module with a Colorado lumber scene.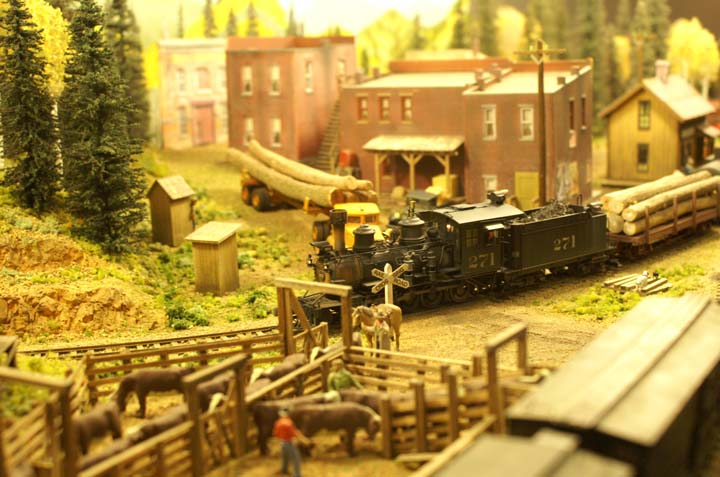 Example of a left turn module with cattle pens:
Example of a right turn module with bridge and mine in the background: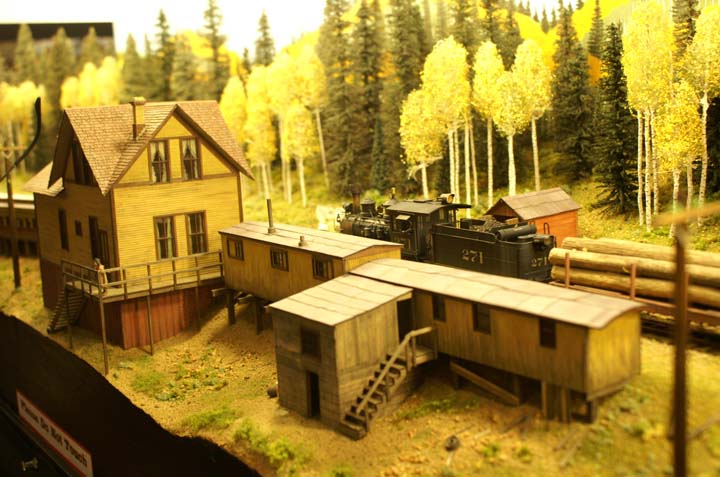 Example of front module based on a prototype location: