Route 66 Railway - HO - Charles Porterfield
From LdsigWiki
Introduction
I am attempting to design a layout depicting a section of the Atchison, Topeka and Santa Fe Railway set in northern Arizona where it runs alongside Route 66, during the late spring to early summer of 1953.
The Route
Mileposts
The route lies somewhere between mileposts 206.1 and 230.0, roughly between Chambers and Adamana.
Elevation
As the following image shows the grade westward between Pinta and Adamana is steadily down leveling off eventually at the Winslow Yard.
Piedmont
Due to current space limitations I am using a fictional town - Piedmont Arizona (not to be confused with Piedmont in South Western AZ. that became a ghost town in the late 1930's) as a showcase for the various elements that I desire on the layout such as a typical 1950™s Drive In Theater, Cattle pens serviced by the line, etc.
Piedmont lies along the route mentioned above somewhere between Pinta and Adamana inside Apache county.
My Space
Spare Bedroom
I am currently using a spare bedroom in our house for the layout room. The total space of the room is 11'7 1/4" x 16'4 3/4", however an area of 8'10 1.2" x 2'5 1/4" is taken up by an internal closet.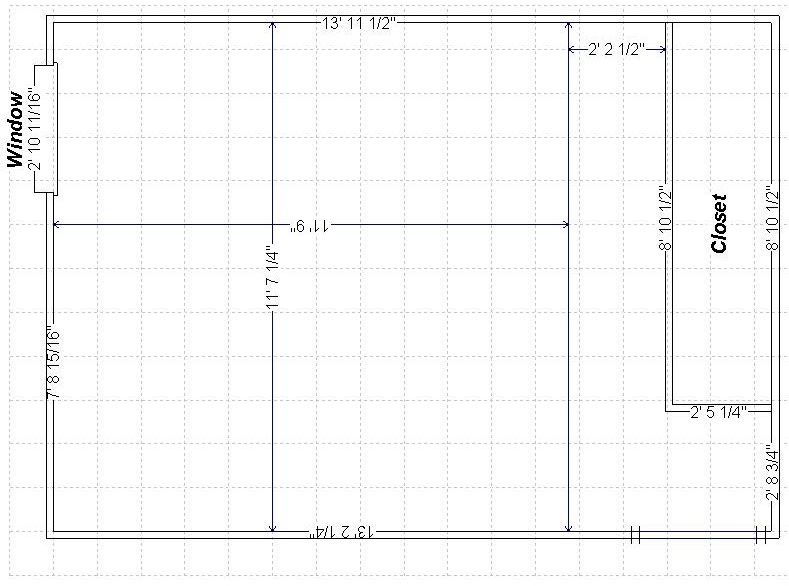 Here is a picture of the spare bedroom -This picture is a "before" picture - Flooring and Wall treatments and painting are still to come.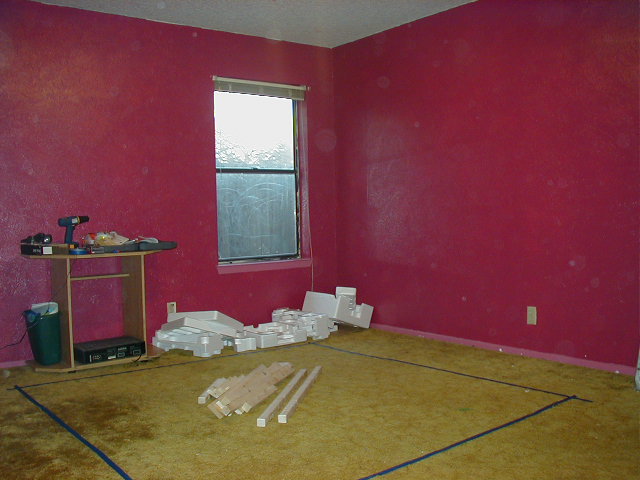 Details
Givens
Closet can not be removed or its doorways altered. Doors can be removed from the closet and small hole can be made in closet wall closest to bedroom wall for track to pass through.
Lift out/Pullout areas are ok but there can be no duckunders.
Outer walls of bedroom can not be breached. Room is bordered by bathrooms on two sides, living room and outside on other two walls.
Ability to have Continuous running.
No under layout staging.
AT&SF Mainline.
HO Scale.
Minimum mainline radius: 26".
Maximum mainline grade 3%.
The layout will be built and maintained primarily by myself and my wife.
Layout will be operated by me and my wife.
Benchwork must be freestanding and in moveable sections.
Druthers
Layout height should be around 50". Some areas can go somewhat higher, gorges or river areas can go lower.
Double deck could be acceptable if it could be done without the use of a helix.
Fairly large scenic areas to showcase the region.
Drive In theater model on layout.
Layout Sound
Fully working/automated signals, lights and lighted buildings.
An Immediate "feel" of the 1950's.
Enjoyable operations for myself and my wife.
The Original Sketch
After a lot of failed attempts at trying to make a suitable trackpack for our space my friend Texas Zephyr sent me this rough sketch it was from this that everything came together.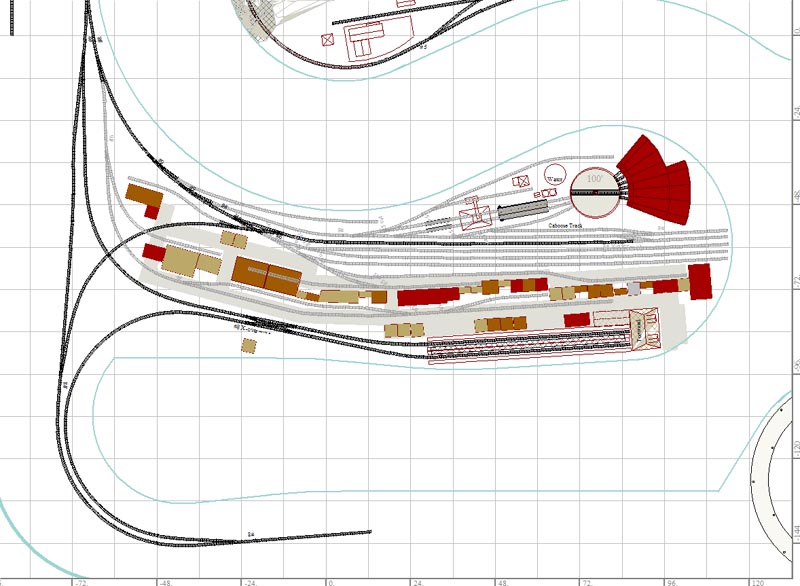 Current Layout Plan
Track Plan Info
Locale: Northern Arizona, AT&SF Mainline alongside Route 66 between Pinta and Holbrook AZ. (Set in the fictional town of Piedmont, AZ)
Period: 1953, late spring to early summer.
Prototype: Atchison, Topeka, and Santa Fe Railroad Company
Layout Height: Starting at 50".
Turnouts:

7 - #5 on Industry Spurs
22 - #6 on mainline, leads off to industry tracks, passing sidings, etc.
5 - #6 ½ on lead in to Staging, left arm of Staging pinwheel ladder, at either end passing siding below Cattle Wye, on lead into **K
1 - #7 curved on right arm of Staging pinwheel ladder
2 - #7 ½ curved on Corner Crossovers
Curve Radii: c.30" outside mainline, 28" inside mainline, some curves much broader in other areas- broadest curve in plan 6'.
Outer Loop: Eastbound Traffic, Right handed (clockwise) running.
Inner Loop: Westbound Traffic, Left handed (counter-clockwise) running.
Industries:

A " Scrap Yard
B Fuel Oil Supplier
C " Shipping Warehouse
D " Bolt and Screw Factory
E Â Station
F " Concrete Plant
G " Oil Field/Oil Tanks
H " Freight House & Team Track
I " Stock Pens (cattle)
J " Agricultural Co Op
K " Gravel Company
Points of Interest:

G-2 - Town of Piedmont
J-4 - Blue Moon Drive In
A-5 to B-5 - Dead Wash and Dead Wash Bridges
A-4 & A-7 - Ranches
N.B.: Lift out/Pullout area to inner area is highlighted in Yellow on the plan below.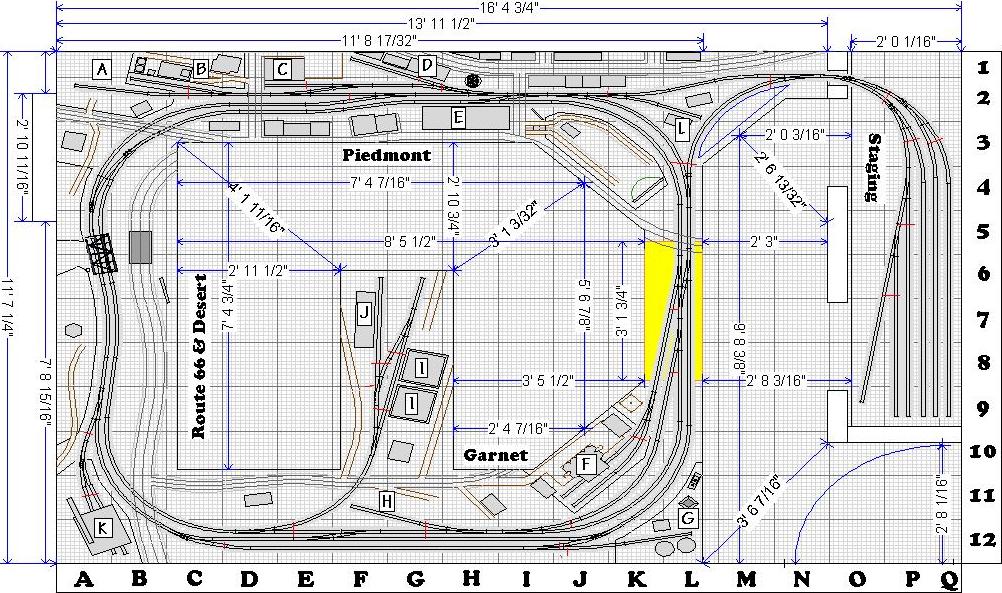 Experience and Influences
Previous Experience
This is my first experience at track planning, layout design or in building a model railroad. I have previously built a few military models and some dioramas and have recently built and detailed a few model structures and done some small detailing engine and kit rolling stock work.
Influences
My primary influence remains that of Frank Ellison, but I have also found great inspiration and guidance from the works of John Armstrong, Iain Rice, George Selios and the great pals I have made on the various model railroading forums.
End & Contact Information
I have attempted to put in any information that might be needed for critiques however this is my first Wiki edit ever so I have no doubt left out something of importance. If you require any further information please feel free to ask and I will get it up ASAP.
I can also be contacted off site via email.
Updates
06/15/06 - Added new track plan showing changes to staging area to make staging have a more pinwheel ladder configuration and updated the Number of Turnouts listing for Track Plan Information.

Added a picture of the spare bedroom that will be used for the train room.
06/18/06 - Added new Track Plan showing changes to remove crossovers from staging tracks and addition of Industry spur inside staging Wye.
06/20/06 - Added location of Dead wash and the Dead Wash Bridges to the Points of Interest section of the Track Plan Information.
06/23/06- Altered Introduction and added clearer pictures of the Route and its Elevation.
02/22/07- Did a major up date of all changes to the plan to date.
--GrandpaCoyote 03:23, 23 June 2006 (PDT)