San Francisco Commuters and Santa Cruz Mountains - N - Enzo Fortuna
From LdsigWiki
Introduction
This layout will represent a section of the Southern Pacific set in central California from San Francisco to San Jose and the Los Gatos branch line from SJ to Felton in the Santa Cruz mountains, to Santa Cruz . At Felton a (former narrow Gauge) short branch line take up to Boulder Creek.
Era represented is from 1937 to 1942. This selection is to have steam as 99% of the roster and some visual degree of "just gone" depression time ( I like the old not well maintained look of buildings ) but at the same time having on tracks the latest steam developments (GS4 , oh wonder !)
Evolution
The plan is "evolved" under the way, following my experience path in more realistic valuation of my skills, preferences, and .... (why not?) a better understand of tracks laying "art" (on real RR's and by modelling point of view).
The above article is the first of a series of 3.
The second article in the story is at: http://macrodyn.com/ldsig/wiki/index.php?title=Espee_Bay_to_Bay%2C_From_the_City_to_Santa_Cruz%2C_CA_-_N_-_Enzo_Fortuna Last one (I'm preparing the room at the moment) : http://macrodyn.com/ldsig/wiki/index.php?title=Bay_to_Bay%2C_2008Plan%2C_CA_-_N_-_Enzo_Fortuna
Space and Layout Design
I plan to use part of the ground floor cantina in our house for the layout room.
The total space of the room is 4x4,5 meters (13" x15"), not so much also modelling in N scale!
After a long discussion with my lovely counterpart about : "we have lot of thinks to "leave here for a moment" ( you know? ), I'be obtained an horizzontal slice of the real estate: "anything ABOVE my stomach". So, I restart my previous design under a new perspective:
Basically an around-the-wall design with a peninsula in the middle of the room for the main line from SF to SJ.
A lift bridge cross the entrance door take to a second level, where San Jose Diridon station and Lenzen Roudhouse/Shop are the start point of a Wye pointing in two directions.
1- The branch line from SJ to Santa Cruz, taking stop in Los Gatos , then crossing the Mountains to Felton and to the see.
2- A descending branch take to a staging yard that represent south of SJ line (Coast line).
Layout High:
- Level high start from 120cm=47" at SF and line from Menlo Park to San Jose reach 150cm=59"
- Santa Cruz yard is at 160cm=63"
– Staging yard is at 130cm=51"
I have done a preliminary scketch to define the spaces and main dimensioning, so, please, don't pay attention on tracks (they follow this design stage soon)
Lower Level: SF to SJ
This is the lower level :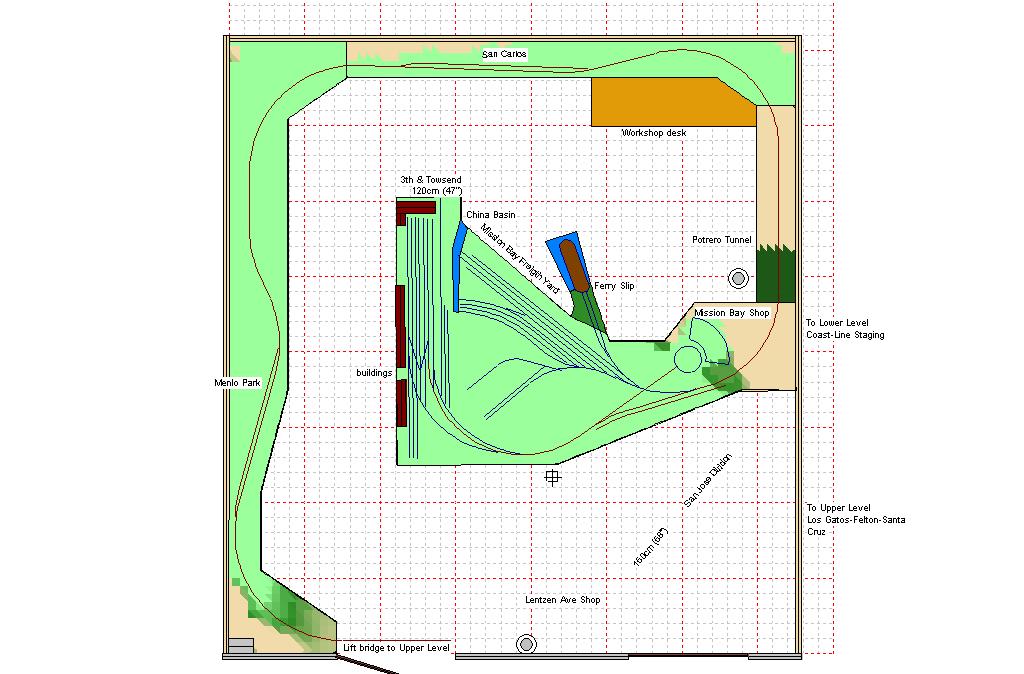 Notes about the Drawing grid : Red squares are spaced by 50 cm (approx 20" ) and blue grid squares are 10x10 cm (approx 4"x 4" ) I've provided a little space for a workshop desk for "dirty" jobs (mainly scratchbuilding structures) and a PC for the operating sessions.
Main data:
Main line run on lower level ( no sidings ) = 63 feet = 19 mt
Branch line run on upper level ( no sidings ) = 42 feet = 13 mt
Narrow line run ( no sidings ) = 33 feet = 10 mt
Minimum radius on Main line is 61cm=24"
Minimum radius on Branch line is 53cm=20"
Grade from Menlo Park to San Jose is 1,1% max.
Grade on SJ to Santa Cruz line is 1,6% max.
Yards capacity
Considering that in 1:160 scale an 80' passenger car model is 6" and a 40' box car is 3" (more or less):
Longest Mission Bay yard track = 55,5" = 140 cm ( 17-18 box car capacity )
Longest 3rd & Townsend track = 48" = 120 cm ( 8 passeneger cars + loco )
Longest Menlo Park track = 43,3" = 110 cm ( 7 passeneger cars + loco )
Longest San Jose yard track = 57" = 145 cm ( 9 passeneger cars or 18-19 box cars + loco )
Longest Felton track = 37,4" = 95 cm ( here run max 60' passengers: 4,5" max i.e. 8 car+loco)
Longest Santa Cruz yard track = 43,3" = 110 cm ( 7 passeneger cars + loco )
Longest Staging yard track = 72,5" = 190 cm ( 8 passeneger cars + loco )
Longest Boulder Creek track = 23,6" = 60 cm ( Narrow gauge rolling stocks are in average 1/3 shorter as standard gauge= plenty of space here !)
__________________________
Ferry slip is a removable cassette (I plan a real Ferry model)
Lower level:Questions
- SF to SJ : Double track main or single track ?
- Main line run from SF to SJ , given N scale steam trains , seams reasonable or too short ?
- I've design two stops between SF to SJ( mainly because I loveboth depots structure): San Carlos and Menlo Park. In terms of distance seams reasonable or too short ?
Please send me some comments : email
Upper level: SJ to Santa Cruz
The following figure show the upper level :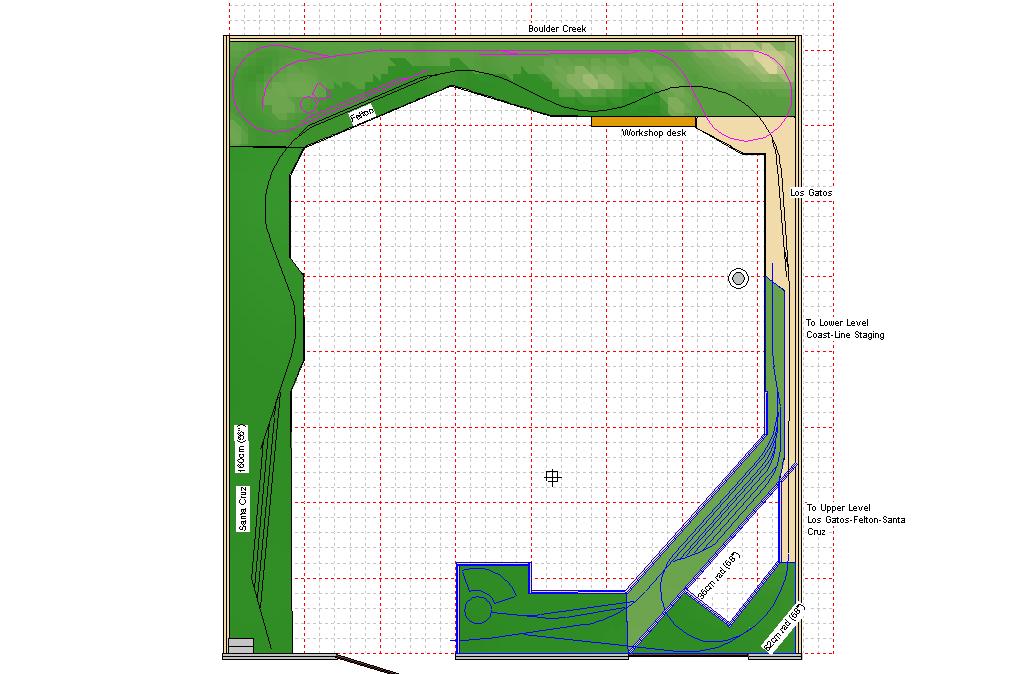 Branch Line goes from SJ to Los Gatos, climb to Santa Cruz mountains , descend to Felton and finally descend to the see for Santa Cruz.
A short Narrow gauge ( Nn3 ) line take up from Felton up to Boulder Creek.
Upper level - Questions :
- Lenzen shop is on a wye BUT the curve from SJ on start of the branch line for Los Gatos is maybe too strong (35,5cm= 14")
- Santa Cruz real right of way continue rigth for Davenport and left to Watsonville (station tracks are a Wye ) and is not designed.
- Boulder Creek was the end of line but I want Nn3 trains continuous running if no operator are available
Staging level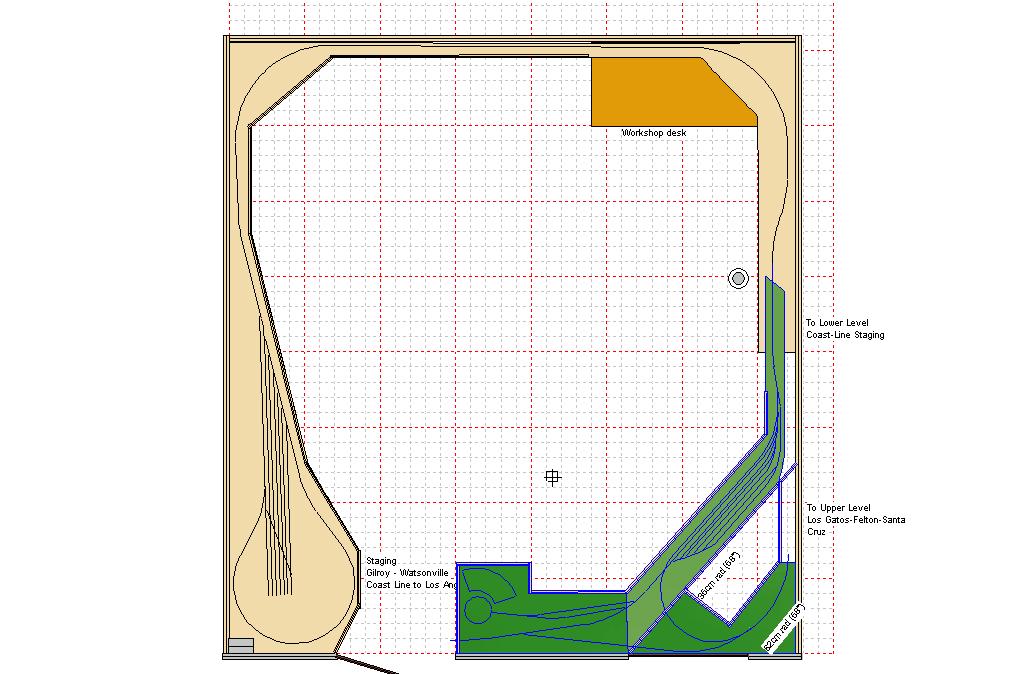 From San Josè start the main line to Gilroy etc.. to Los Angeles : the Coast Line. This is emulated in a staging level that end on a stub yard with a run-around loop positioned bottom of the lower level. Scene was not planned here ( maybe only one Ocean coast on the upper wall? )
Some 3D views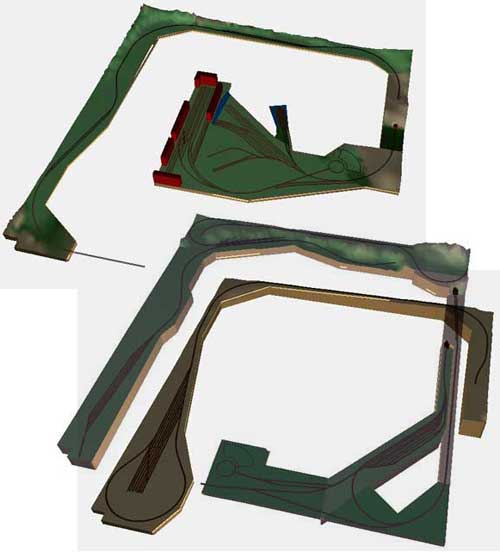 All levels displayed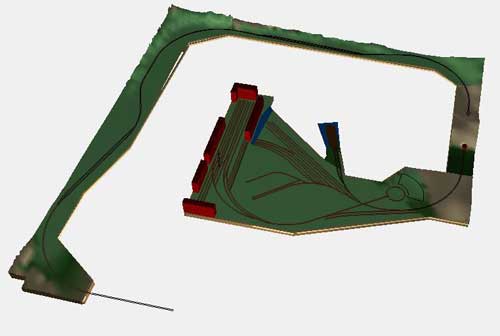 Lower Level: San Francisco to San Josè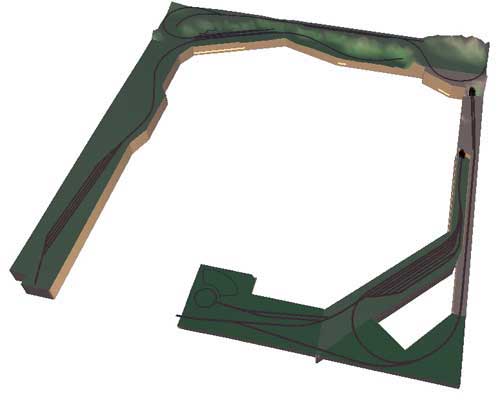 Upper Level: San Josè to Santa Cruz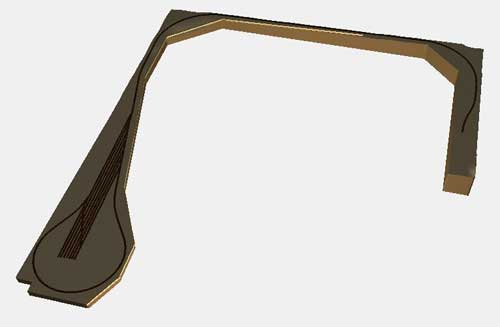 Staging Level: San Josè to south coast line
The Real Route
The route start from the San Francisco Mission Bay yard (for freights) and from 3rd and Townsend station for passengers.
San Francisco (3rd & Townsend – China Basin Mission Yard and roundhouse)
A single intermediate commuters stop is at Menlo Park. Commuters line end in the College park in San Jose (see map above from Signor's Coast Line)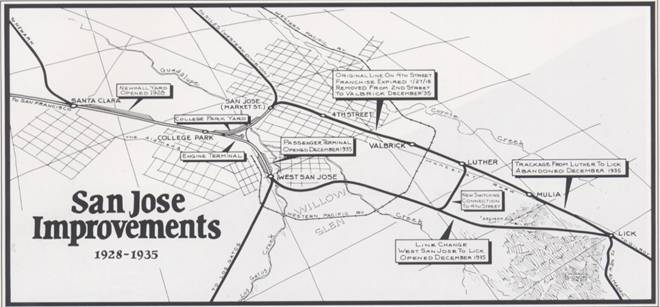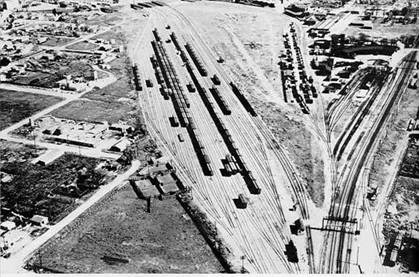 San Jose ( College Park – Lenzen Ave. Roundhouse )
From SJ Wye a branch line takes to Santa Cruz via Los Gatos and Felton.The following map show the old track path and tunnels in the mountains.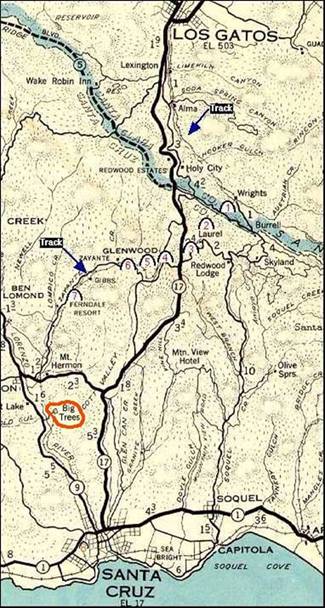 In Felton a short Narrow gauge line is surviving (just in my phantasy!)connecting Boulder Creek. But is an excuse to model a short Narrow Gauge line and rolling stocks for my plesure.
Trains
Regular Daylight and Lark departure from SF to Los Angeles ( and back ) are an attractive resource for train watchers along the ocean shore.
Commuters leaving SF in the evening after a hard work day , are taken under the Potrero tunnel. San Carlos (a national treasure stone Depot) and Menlo Park (a delicious victorian wood depot) is an intermediate stop. At San Jose the commuter route terminate, and trains are sending back to SF in the nigth ( or taking again passengers in the morning) where are serviced at the Mission shop and 3rd & Townsend . Express Mail service between SF and SJ is provided sharing same trains.
Freights are usually "specials" on this part of the Bay, but run frequently and I will provide lot of "reason" to be . Industries are distributed along the route, mainly near the stations on a spur track. Freights types are very different : milk, fruits and lettuce are coming from the orchards in the country south of Santa Clara, as well logs are originated in the mountains and are taken to SF port to be loaded to ships, to a Pulp Mill that supply raw materials for a Paper Co in Santa Clara, and sliced logs from a Sawmill near Fenton are taken to a Furniture Co . Mechanical spare parts are taken from the ships to different resellers ( Santa Clara , Menlo Park and SF have one). Guns powder is manufactured a mile from Felton and are delivered with "specials " trains to SF port. Rocks ( or sand ? ) is taken from the mountains and forwarded to ships too. A "parallel" word of anything is transported by Railway during the years at the end of the 40' providing food and jobs for all the Bay settlers. And, I forget to mention the ferry apron in SF port: there is a ferry waiting freights for the "other side of the Bay". ( this can used as "cassette" staging too) .
Branch lines
An interesting part of this railroad I think are two secondary lines. Both was gone at the time slice selected but I've forced it to still exist. History can be streched a bit using some phantasy (freelancing?) !
The first one is the branch to Los Gatos and the following line to Fenton and Santa Cruz. In reality line from Los Gatos to Olympia was abandoned in the 1940 after a very hard winter full of rain that more or less destroyed the right of way. Trains are transporting logs to the main line users and locals are going up and down to the Felton community taking food, dresses as well repair parts for the mountains loggers. Tourist trains are planned during the week-end taking peoples to the beaches around Santa Cruz. Suntan Special and Del Monte (regular trains)are taking Santa Cruz businnes peoples to San Jose and San Francisco.
Another "poet license" is the surviving of the Felton – Boulder Creek Narrow gauge branch They was gone long time ago (SP have standard gauged ALL the line at beginning of the century), but I like to have an occasion to model something in Nn3 (N scale 3 foot gauge), so ... Old narrow gauge steams are puffing up and down taking locals freights and some passenger to the "civil" world down the hills. Logs are worked in an old sawmill and transferred to the standard gauge flats for the user downhill. The mountains at these time are not just for bikers or boy-scouts : are full of activities!
Thanks in advance
I will appreciate evaluation and maybe (for sure?) suggestions from this group. I try my best, but I'm available to learn from the Masters, and why not, from any RR fan.
Thanks in advance and my best wishes from .... Italy (yes! now I'm living here) If you require any further information please feel free to ask and I will get it up ASAP.

The above is a link to my web-site: where you can find any update :
Experience IT! See: xoomer.alice.it/enzo_fortuna
You can also contact me via email

Thanks in advance and my best wishes from .... Italy !
Enzo Fortuna