Tempe Industrial Lead - HO - Michael Powell
From LdsigWiki
I'm still trying to find a prototypical pike, one that is managable to build but interesting to operate. I've based this idea on a number of visits I've made to the actual location, plus refering to the 2002 UP track charts, and of course hours of peering at Google Earth and Bing Maps.
A potential 16' x 10' purpose built shed could be available for this pike...
Givens and Druthers
Southern Pacific, 1990s time slot (can accomodate current scene with patched or UP locomotives)
Phoenix metro area
motive power GP38/40 or 40/60 combos (want to include SD40s and 45s, but can't figure out how to include a worthwhile section of mainline)
minimum #6 turnouts
traffic - general in reefers, box cars, lumber on center beams, plastic pellets in bulk hoppers, cement hoppers, fuel tankcars
DCC control, single operator
domino construction
no tricky benchwork and hidden staging (any staging out in the open)
minimal scenic effects
This bit of urban freight railroad wanders south from Tempe Junction, and finally peters out a little way south of the Loop 202 Santan Freeway…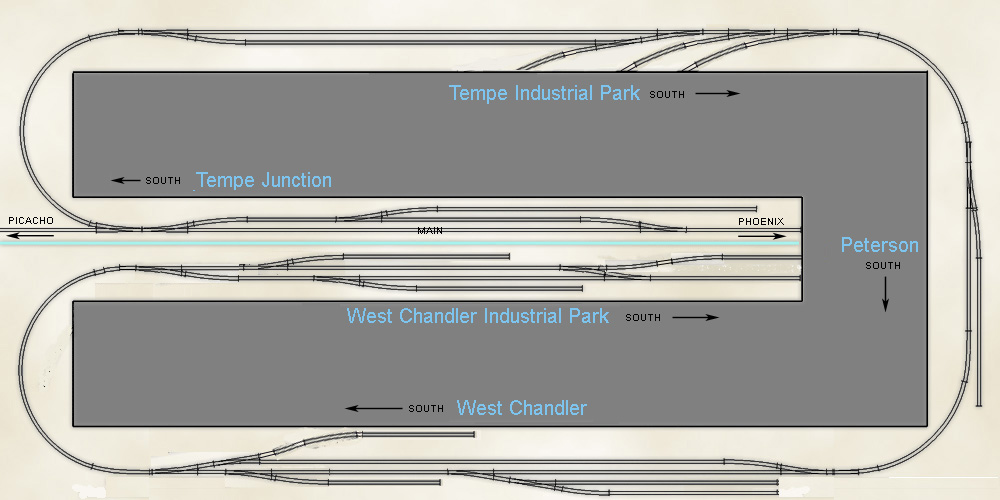 On the way, it visits various industries that see a handful of cars each. Not many cars, but plenty of variety – tanks, coil cars, box cars, lumber racks, shorty cement hoppers, 100t hoppers for plastic pellets… The plan stays pretty faithful to the prototype, including having the spurs correctly oriented. West Chandler has been flopped though, so the tank tracks are on the east side of the lead not the west. Having the spurs face the right way should help operations be more prototypical – now all I have to do is find out how the prototype operates!
Starting from Tempe Jct, follow the line south (clockwise) round the room until you arrive at West Chandler Industrial Park. Each time you're facing the pike, south is to your right and you're facing east. I'm absurdly pleased at this bit of geographical sincerity, as I'm sure it will help the sense of a line that goes from somewhere to somewhere else, not just round a room. Theoretically, if a 100 foot+ linear space became available, I could unplug the LDEs, substitute some straight 'fillers' for the bendy bits, and replicate the branch in all its spindly glory.
Ops remain a bit of a mystery – I've heard traffic on this line, but always late at night/early hours of the morning. I'm guessing the profusion of grade crossings may have something to do with that, but I really don't know. And just how many trains traverse this line? One a day? Three a week? I've never seen anything moving, just the switchers slumbering over at McQueen and various freight cars lolling about in the sun.
My biggest concern with this pike is that basically there is only one out and back local to operate, which strikes me as a bit limiting in the amount of real estate that is available. I've tried a few ways to combine a piece of the mainline so that I can run haulers that interchange with the Industrial Lead, but have gotten stuck.
So, that's where things lie at the moment, over to you guys!