The Port of Long Beach Subdivision - HO - Mark Lestico
From LdsigWiki
Videos now available!
There are videos of this modeling effort located on You Tube address: https://www.youtube.com/watch?v=pbiLUWZzCDg
PLANNING AND CONCEPTS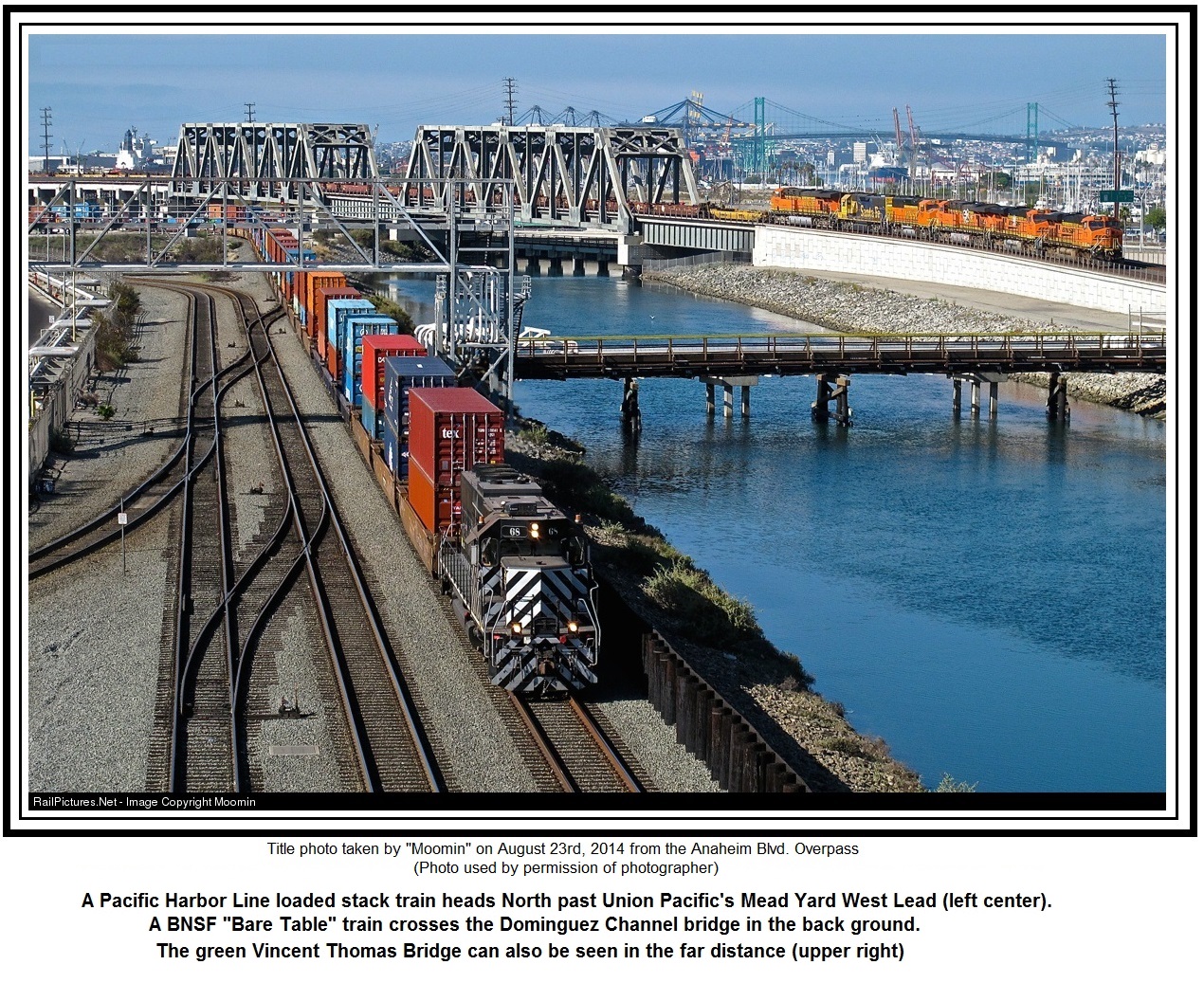 Why a new layout?
My wife and I had decided in April 2015 to downsize our residence and move to the beach. Things happened very quickly after that. Our house sold in two days! and the N-Scale Cascade Sub was sold to a fine gentleman in Virginia. We found a condo on the water in Long Beach and the rest is history. We moved into our new home after a few remodeling projects were finished on August 1st, 2015.
You can view the N-Scale effort at: http://www.macrodyn.com/ldsig/wiki/index.php?title=Cascade_Subdivision_-_N_-_Mark_Lestico
Why the Port of Long Beach in HO Scale?
Why did I choose the Port of Long Beach for a subject in HO scale? Well, most people moving to a smaller layout room would pick a smaller scale right? Precisely the reason for my decision! I enjoy a challenge. I have done a small scale railroad in a big space already. It was time to do a bigger scale railroad in a smaller space. I had also done the mountain railroad theme in the Cascade Sub. Following the lead of two Model Railroading icons: Chuck Hitchcock and David Barrow, I wanted to try the opposite in an industrial switching theme. I have always been looking at those Harbor themed HO Scale room sized plans like the one that Russell Schoof designed for Model Railroader, October 1990 (also in 48 Top Notch Track Plans, Kalmbach, 1993). Check out his inspiring track plan below. My eyes aren't what they once were and the larger reporting marks on the HO scale stuff is easier to read from an operational stand point. Looking out the West facing windows of my new condo lies the Port of Long Beach. Perfect for research access! Thus was born the Port of Long Beach Subdivision.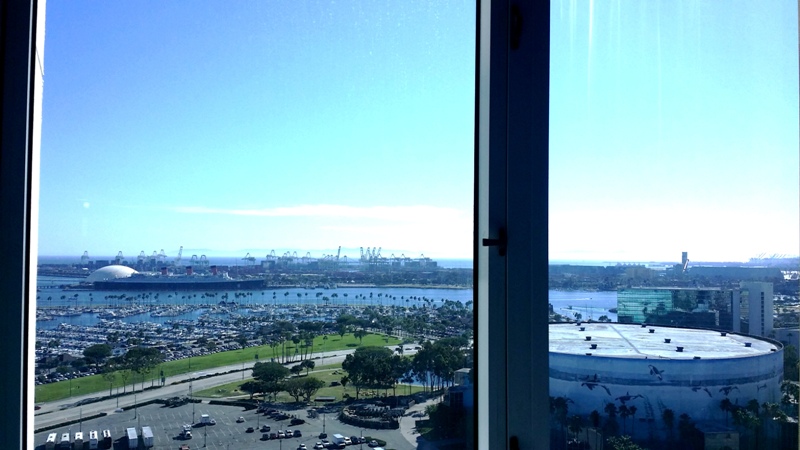 View of the Queen Mary and the Port of Long Beach from the layout room. Great access for research!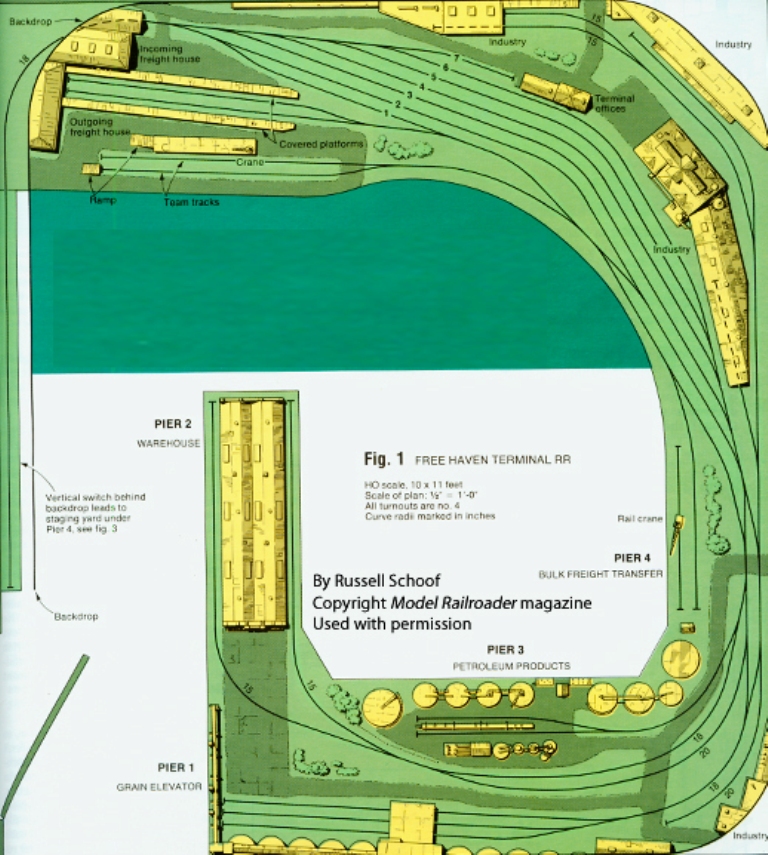 Here is the inspiration for my Long Beach Subdivision effort. A pic of Russell Schoof's track plan. I have been going back to this plan for many years. It provides a large amount of operating potential in a small space. The industries are all different and thus the rolling stock roster is also diverse. Also see: http://mrsvc.blogspot.com/2008/11/schoofs-free-haven-terminal.html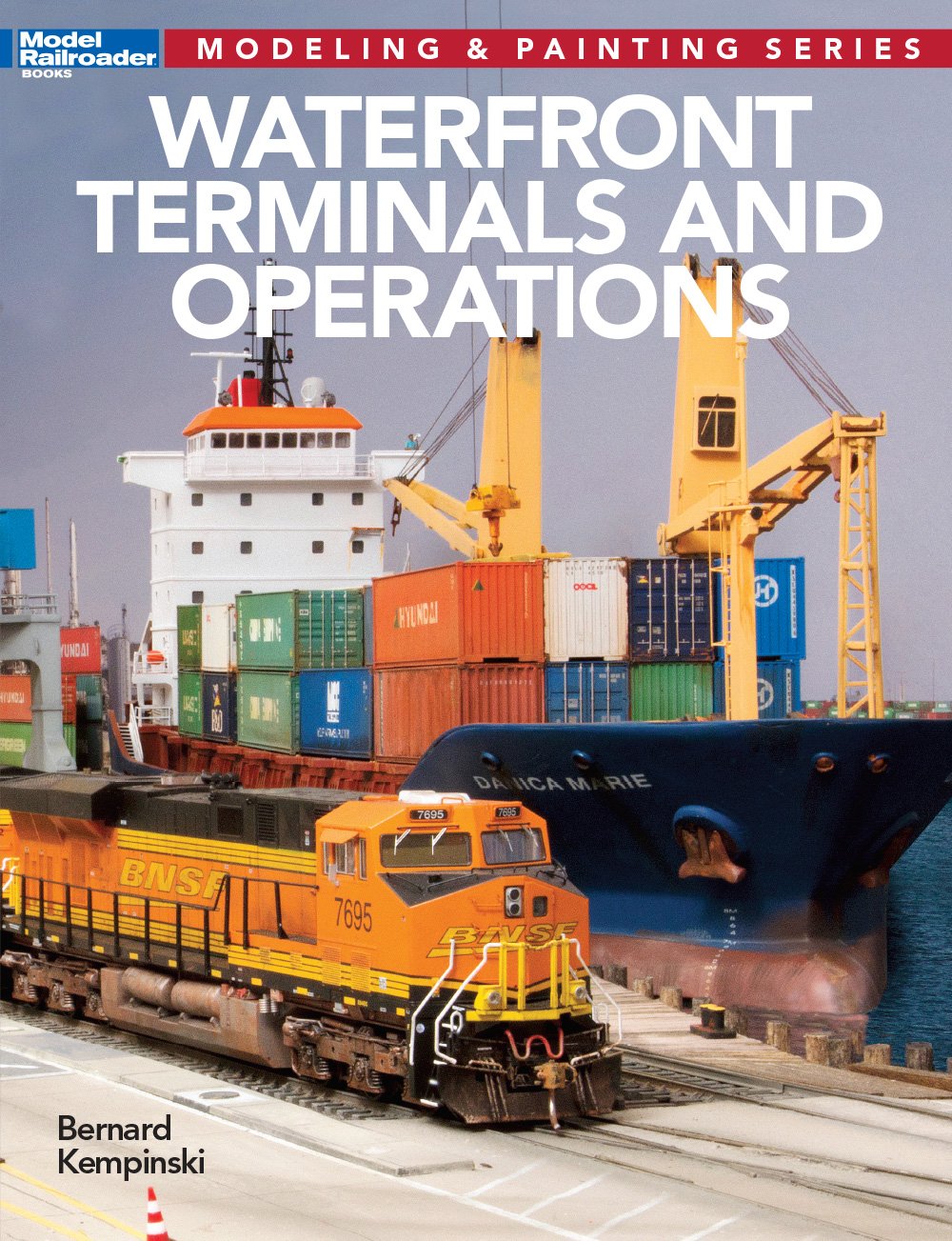 Bernard Kempinski has recently published a Model Railroader / Kalmbach book titled "Waterfront Terminals and operations" that has a wealth of knowledge on the subject. He has a layout in the book that focuses on the Port of Los Angeles. Bernie also has a company called Alkem Scale Models that has a lot of great products to help the modeler: http://www.alkemscalemodels.com/ I purchased a ton of his Chain Link fence for use on my Port of Long Beach effort. (Could not find any of Craig Martyn's BLMA stuff, alas.) Bernies' fence is exquisite however!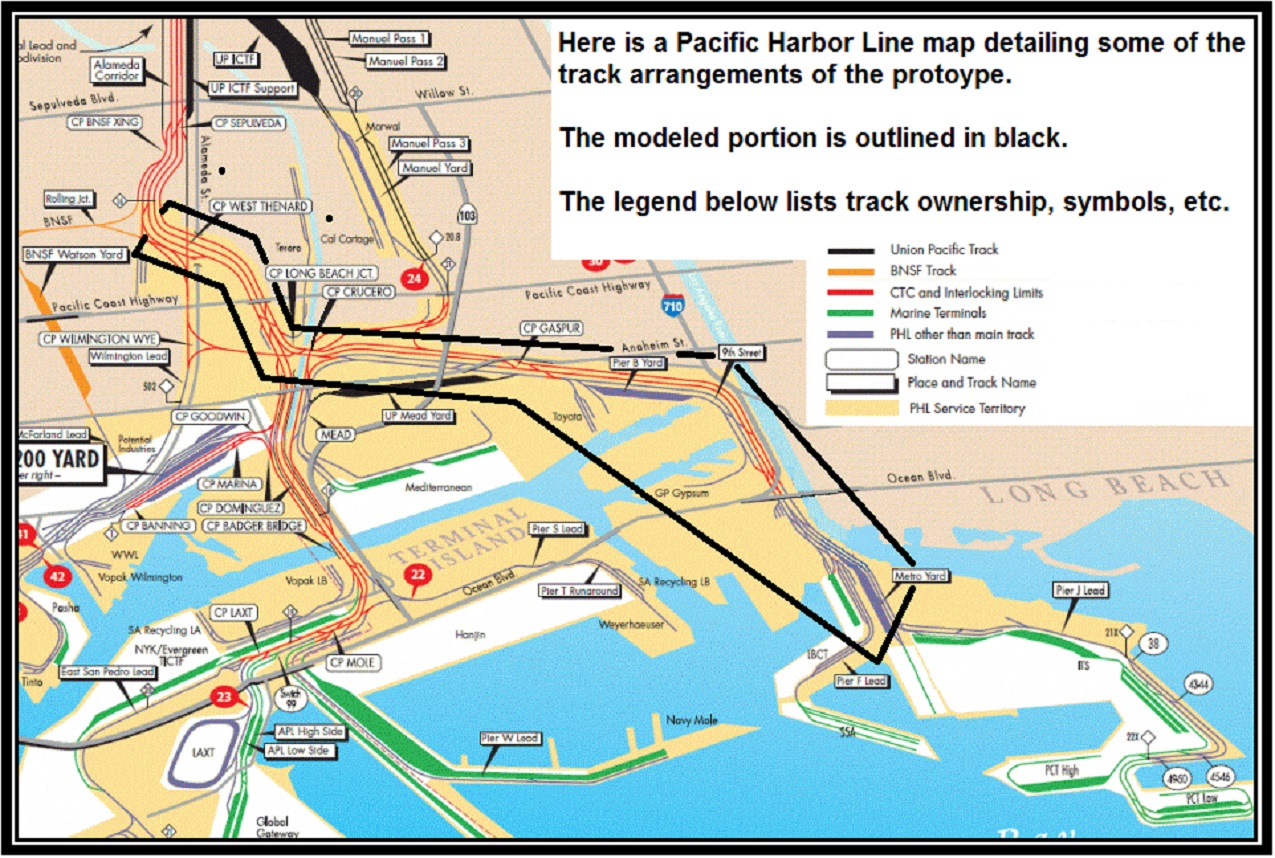 Here is Pacific Harbor Line's company map of the port area as of the Year 2016. I have outlined the modeled portion in black so you can get a sense of place. Compare this map the the one below as well as the track plan below. You can see how I tried to keep the track arrangement faithful to the prototype and still fit it into a bedroom layout. There is a little more than 5 miles of real track condensed into about a mile of scale track on the model. (A five to one compression ratio) This is a much better ratio than my Cascade Subdivision layout that had 200+ route miles stuffed into 5.5 scale miles of model track. (A twenty to one compression ratio.) Here is a link to Pacific Harbor Line's website: http://www.anacostia.com/railroads/phl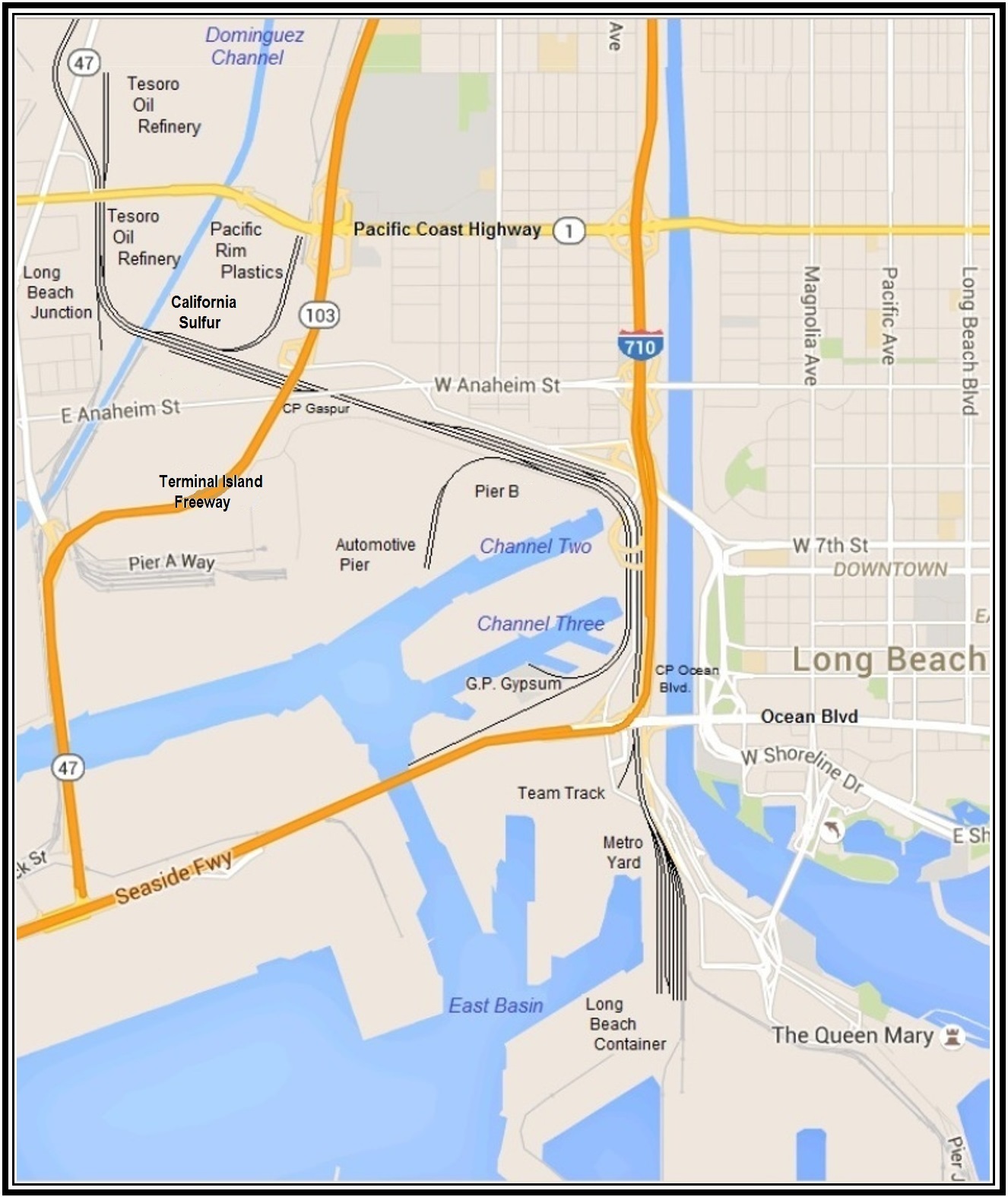 Using a modelers licence, and selective compression, here is a map of the area with the model tracks drawn in. This gives a good idea of how the tracks mesh with the roads and docks that are there. Compare this to the map above and it shows how I tried to mesh the real tracks with the model version.
Other design considerations or "Druthers"
I want to keep two to four operators busy for a few hours. This requires two to three sets of power and two or three separate operating areas. I needed an Interchange / Staging point with the "Outside World" with adequate capacity to support operations. A decent Main Line run meant possibly traversing the layout more than one time? Modern railroading, especially down at the Harbor typically involves a Multi Main Track environment. Avoiding duck-under's to enter the train room was also a requirement. Especially on days when the layout was not operating. I also enjoy big contemporary locomotives that require a generous radius and big number turnouts. Based on Joe's article on calculating suitable radius on Page 45 of the January 2009 issue of Model Railroad Hobbyist: http://model-railroad-hobbyist.com/magazine/mrh-2009-Q1 I was going to need around a 36 inch radius! These are tall orders in a bedroom sized layout! Was I dealing with a full deck? Was the elevator reaching the top floor? Was there a light on in the attic?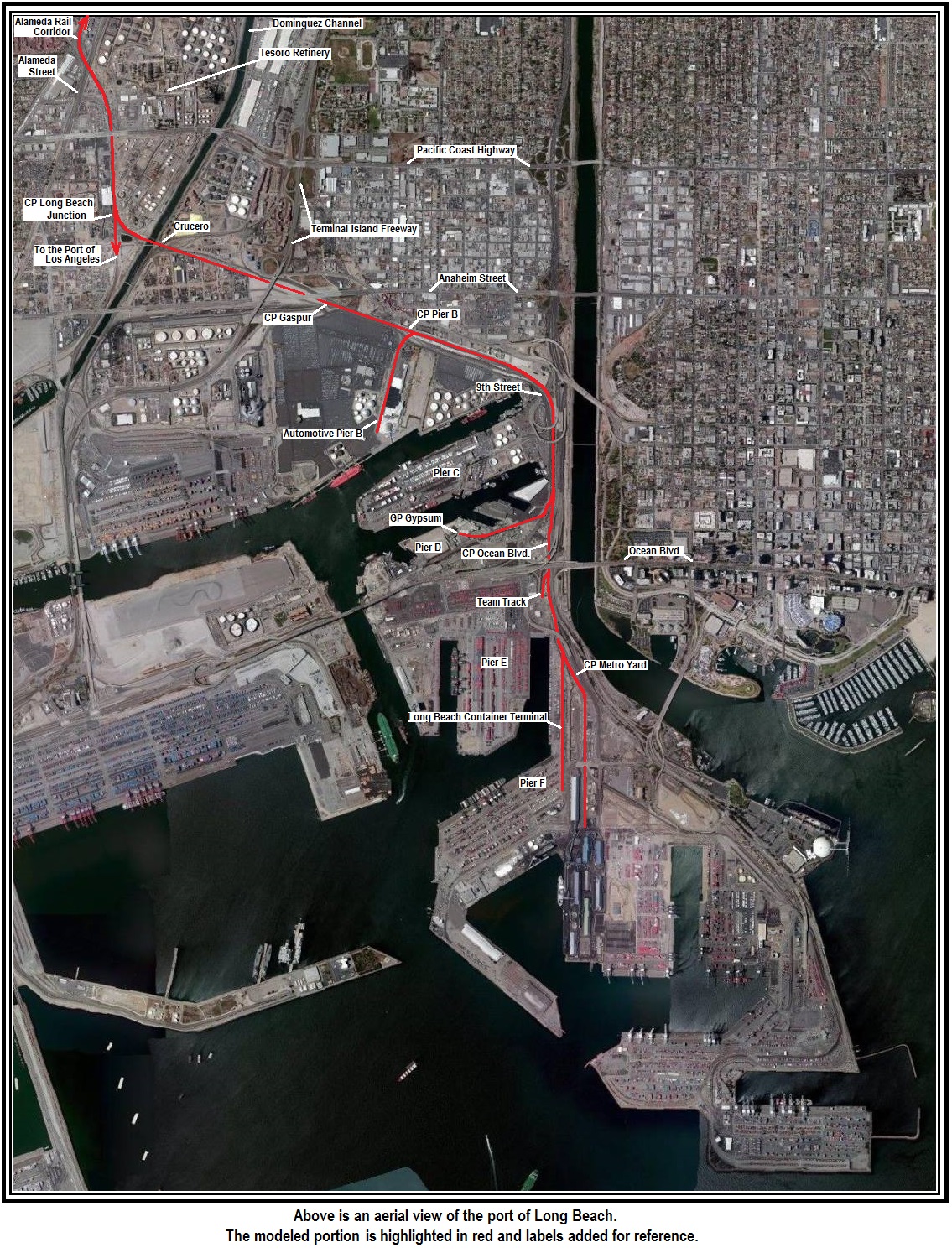 "Givens"
I did not want to copy existing layout plans. Track Planning is a major source of enjoyment for me. So leaning on my previous experiences I began the development of the new layout as soon as I could obtain the dimensions of the second bedroom of our new condo. Based on my "Druthers" list above, and the "Givens" of the bedroom dimensions of 11 feet by 12 feet, I quickly found that an around the walls shelf layout was going to be the answer. The layout planning process went thru about 20 versions before coming up with what you see below.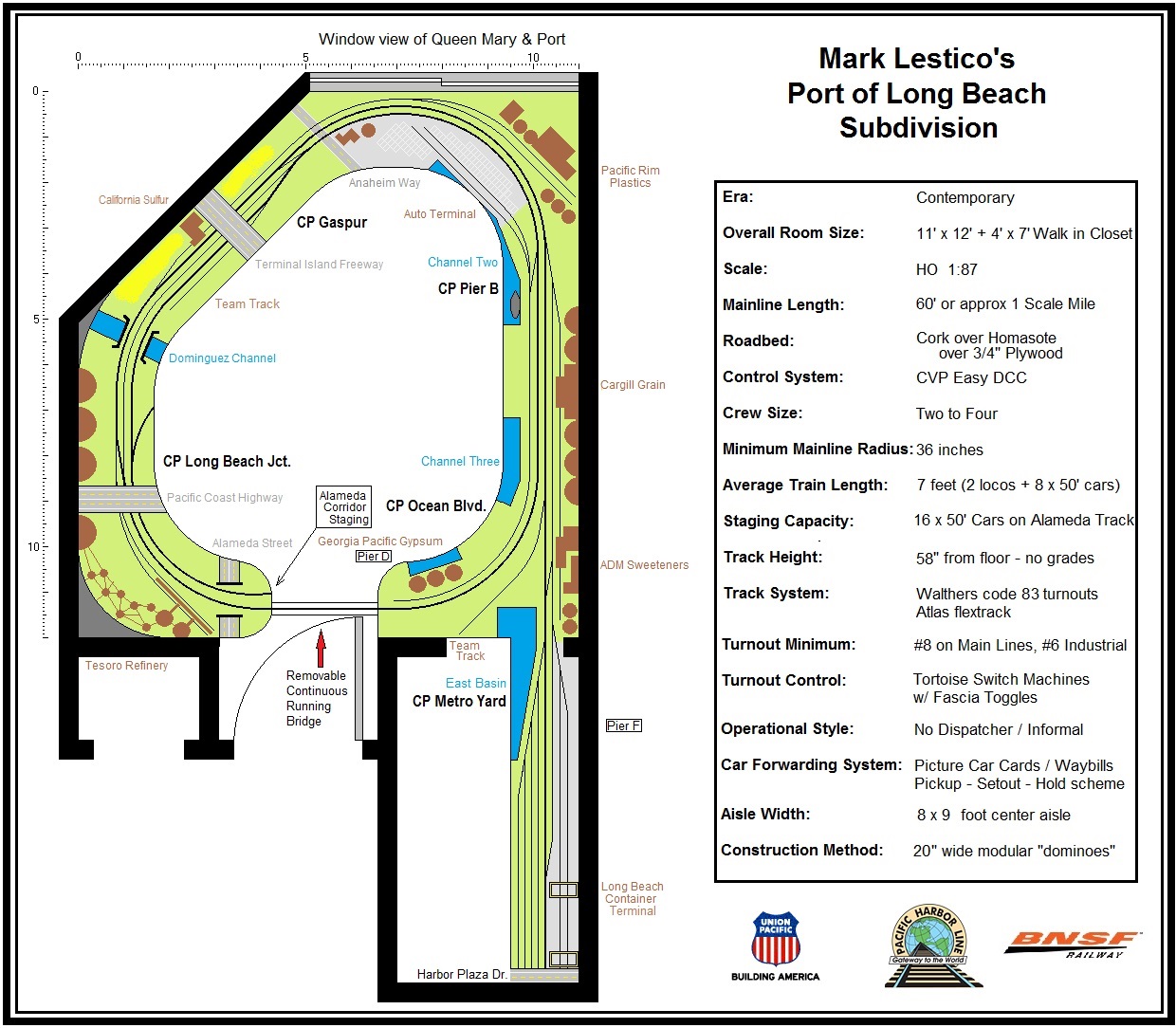 Planning Results
A walk in scheme to the train room was accomplished by including a removable 200' Brass BLMA bridge across the entry door. The layout can operate with or without the bridge in place because the Lead tracks to the two main operating areas are on adjacent tracks at the opposite end of the room at the "big curve". (36" and 38" Radius Respectively) Thus the bridge, in place, creates a continuous running option. The track plan is quite basically a large oval, or what I'll call "The Loop", with a Branch Line that comes off "The Loop" at Long Beach Junction and wraps around the layout to the other side of the room to access the 4' x 7' closet space which is Metro Yard and the Long Beach Container Terminal.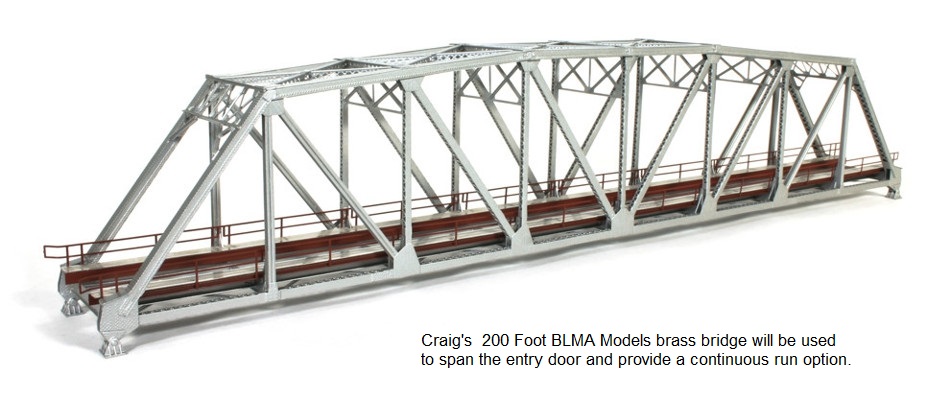 Believe it or not, a 36" minimum mainline radius was achieved and industries have a minimum of 26" radius. Even with this generous main line radius, I will refrain from putting 89 foot auto racks, flat cars, etc. on the layout. 60 foot cars will be the maximum. This will ensure reliable coupling and avoiding that toy like overhang that long cars can produce. I was able to keep #8 turnouts on the Main Tracks and #6 turnouts for industries as minimums.

Three Operating areas were achieved, but I believe two crews will be the best fit for this layout. The three operating areas include the Tesoro Refinery area, The various waterfront Piers and Metro Yard. Metro Yard in the 4' x 7' walk-in closet space will be used for sorting cars for delivery to and from the on dock industries. Note: The Alameda Corridor staging track will be used to move cars on and off the layout during the session. Due to the 58" rail height off the floor and a 9" module depth, the closet space will be accessed via a 49" duck-under or roll-under. (Not ideal but the only way I could think of to use the valuable real estate in the closet and still have a continuous run.)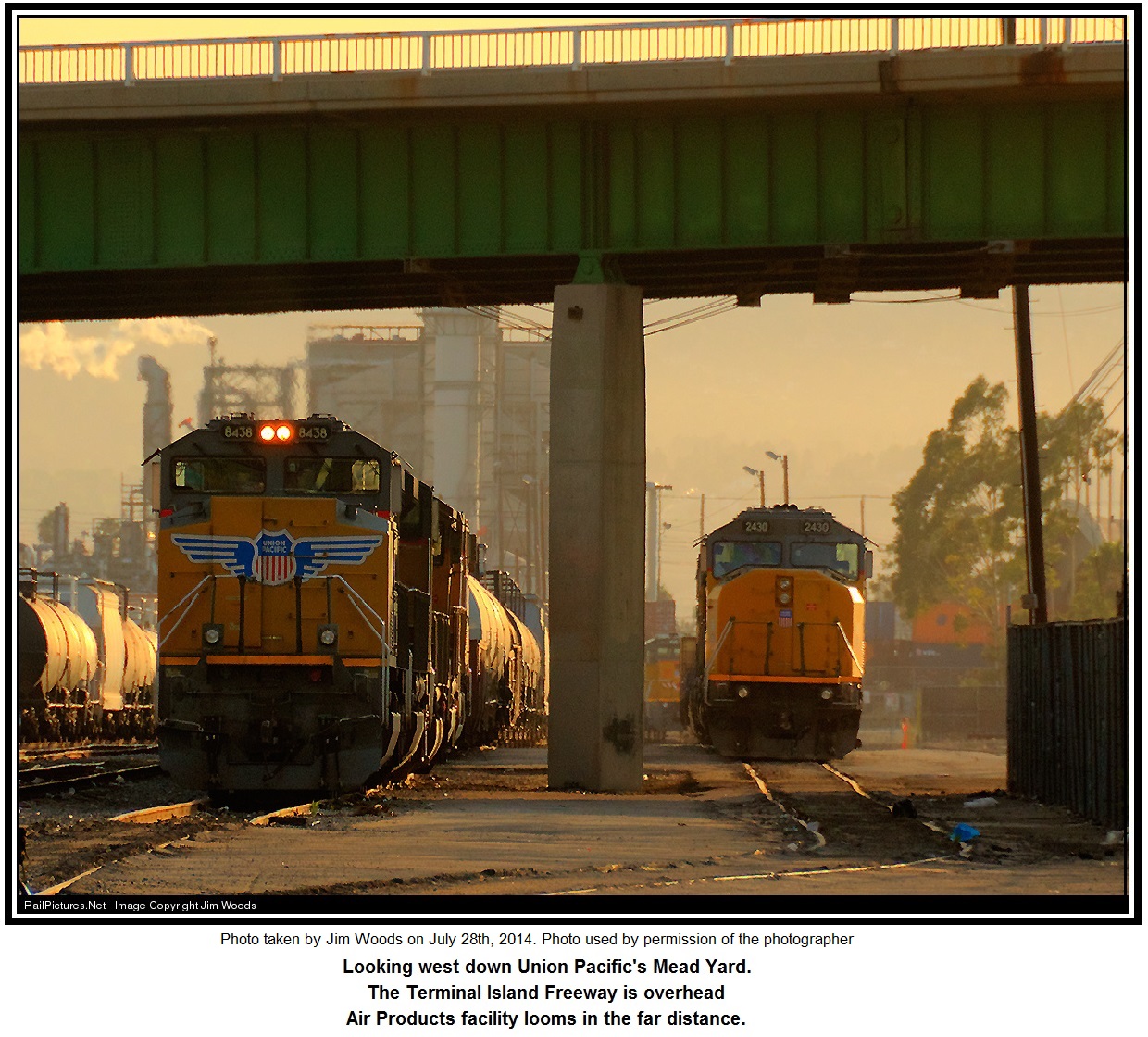 "For Now" tracks are provided to the crews in both main operating areas. CP Gaspur / Long Beach Jct. crew can use the portion of the Alameda Corridor Interchange track not occupied by Interchange traffic after the session begins. The Pier 'B' crew can use the runaround track adjacent to the Cargill Grain Elevator. The Pier 'B' Crew will also have plenty of room to work in the Metro Sorting Yard.
A multiple track "feel" was achieved, along with an almost full scale mile run, by wrapping the Main Line around the room one time and a half again. These Main tracks also double as run-around's or Yard Leads when needed without 'crowding' the scenes and making the layout look like one big bowl of spaghetti. Main Tracks are differentiated from secondary tracks by using Concrete ties. Industry tracks and other connecting tracks use wood ties on this layout. This helps crews to orient themselves when traversing the layout from end to end.
Crews interact informally with each other when needed for these moves as well as transfer runs between operating areas, etc. Interchange & Staging was accomplished by placing one long track at the opposite end of the layout from Metro Yard and attached to CP Gaspur. This track can accommodate an 10.5 foot long train of in-bound or out-bound cars. This replicates the Alameda Corridor "Umbilical Cord" connection to the United States Markets which is located just across the Dominguez Channel North West of Mead Yard.
10 Industries will be served by rail, each with a minimum spur capacity of 5 or more rail cars. (Modern Industries consume lots of rail cars.) Rail car variety is achieved by making sure that no two industries use the same car. Long Tank cars for the Tesoro Refinery, Long Covered Hoppers and high Cube Box Cars for Pacific Rim Plastics, Medium Tank cars for Tesoro Molten Sulphur, Articulated Auto Racks for the Automotive pier, Medium Covered Hoppers for Cargill Grain, Short Tanks for ADM Sweeteners, Short Hoppers for Georgia-Pacific Gypsum, Well cars for Long Beach Inter-modal and a variety of other car types for the CP Gaspur Team Track and Pier 'D' Team Track. Car Capacity on the layout will be approximately 60 cars. With the Setout - Hold - Pickup scheme, This puts about 40 car spots at industries and around 20 cars in transit. This leaves plenty of space at Metro Yard for inbound & outbound sorting and blocking activities.
Operating Sessions would begin with a big train of 20 inbound cars coming off the Alameda Corridor Interchange track destined for Metro yard. The Pier 'B' Operator would break down this train and sort the cars for delivery to the on line industries. The crews would commence with the local deliveries, transfers, etc. until everything was delivered and all of the pick-ups were back in Metro Yard. The Pier 'B' Operator would then build the big outbound train headed back towards the Alameda Corridor Interchange with the picked up cars. Once this train arrives at the Alameda Corridor track the session would end. This Alameda train then becomes the next sessions in-bounds, and so on.
The two crews will consist of an Engineer and Conductor. The engineer will be responsible for moving the Locomotive Power and keeping tabs on the location of the Conductor so he's not walking too much and wasting valuable time. The Conductor will be keeping tabs on which cars need to be picked up and delivered and also be "on the ground" when necessary to throw switches. They will work as a team to get the jobs done. The CP Gaspur Crew will work "The Loop". The Pier "B" Crew will work the Branch Line.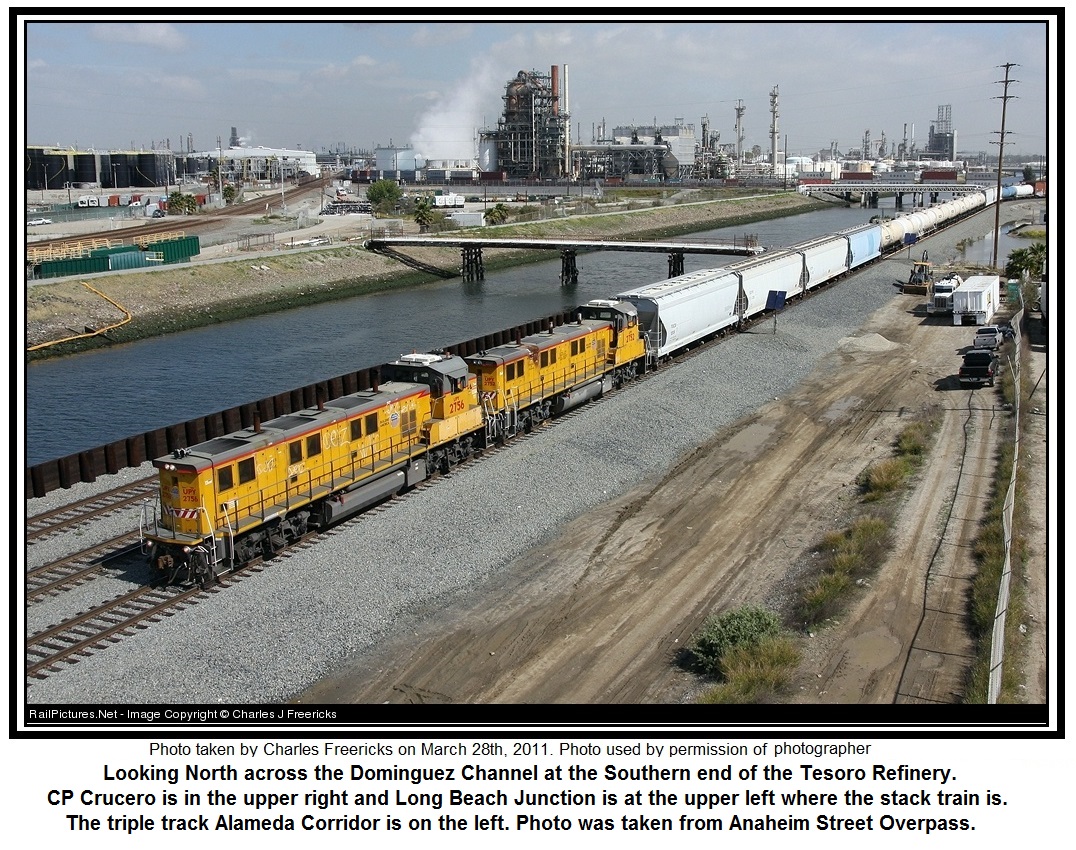 Storage and Work Space
Most authors writing about layout planning typically don't mention the subject of storage space and a few have touched on the hobby desk issue. I had a dilemma as to what to do about storage under the layout and having the proper work space to assemble the various components that would go on the layout. I also needed access to the bottom of the layout modules to install and maintain wiring, switch machines, DCC equipment, etc. (After all, Digital Command Control only takes two wires right!? ***Joke***)
Initially I was planning to put a work desk in the middle of the room and surrounding it would be the "Aisle Space". The downside to this is that I'm a bit of a Neat Freak and having the typical clutter associated with a hobby desk in the middle of the room during an Op-Session was less than desirable. I also planned on fabricating shelving out of some cabinet grade plywood under the layout. I would use the legs supporting the modules to attach the shelving to. This would give me that all important storage space to hide everything that I don't want cluttering the space. The problem with that plan was; how am I to access the bottom of the layout for wiring, etc?
During one afternoon the I had a "Light Bulb Moment". What if the storage shelves were on casters? I could then move them out of the way and access what I needed underneath the modules. They would also double as a portable work surface if needed. I thought this was brilliant! The module width is 20 inches, so whatever I came up with, it must fit within that space. During a quick search on-line I discovered that Ikea had just such a system for a reasonable sum. They call the units "Kallax". The dimensions are nearly 5 feet wide, 15 inches deep and 3 feet tall. They are sturdy, go together quickly, provide plenty of storage capacity and provide a great portable work surface when needed. I will get five of these units to complete the project. (The door inserts in the picture are optional. They have a lot of options on what to fill those slots with, or simply leave them as is.)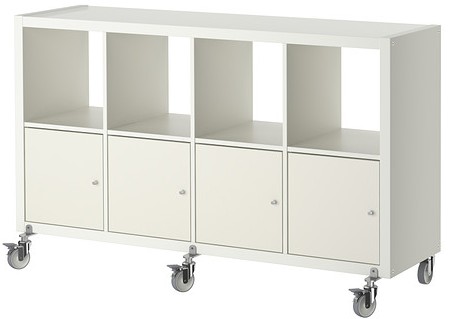 The next order of business was to find a suitable work surface / desk. It needed to be big enough to work on large projects such as buildings & bridges. It also needed to be narrow enough to fit under the layout without protruding into the center aisle space. (Keeping in mind there will be a curtain hanging from the front lower edge of the layout down to the floor which will conceal all of this stuff when company is over.) This would leave a work surface of say 15 - 16 inches deep and say 4 feet wide. While on the Ikea site I found just the ticket: A computer desk with an odd name of "Besta Burs" would be perfect. Dimensions are 4 feet wide, 16 inches deep and 29 inches high. It has a matching drawer unit (Same name) that can be used for storing tools, paint & other supplies. It also rolls on casters so that it's top can be used as an extra work surface when needed and rolled under the desk when stored away.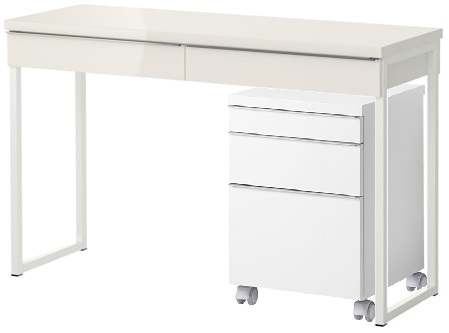 The desk may end up on casters as well. It will obviously depend on how the clearance is under the layout. I have a height adjustable office chair and tend to like my work surface a little high to get my project up where I can see it. Here is a profile view to give you some idea of the size of these objects and how the ergonomics look with a couple of 6 foot people in the picture: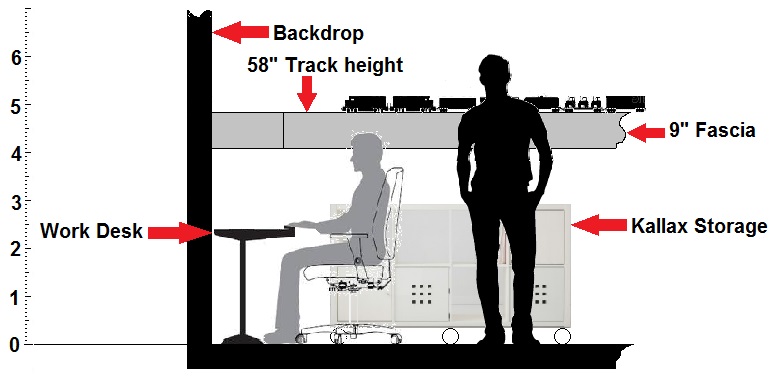 Backdrop
So I'm at the point where I've cut out all of the bench work components (20 September, 2015) and am waiting for the time and energy necessary to begin assembly. As we all know, it is prudent to "Do the Backdrop" before the bench work and track work begins. I was giving serious thought to a photo backdrop and had done a considerable amount of research on the subject. I was after the dream of having views of the Port of Long Beach in the back ground. However, it MUST look right. Nothing half baked would do. I found a fellow modeler that lives close by who is also a graphic artist. He also has a very cool piece of equipment: a 6 foot plotter / printer that can print a continuous stream of image 6 foot tall and as long as you want to print. With close access to the port, He and I will work together to produce a photo backdrop that will work on this layout. Because of the congested nature of the port itself, it also makes sense to do what Eric Brooman has done in his city scenes and just let the structures become the backdrop. Here are some examples of that line of thinking: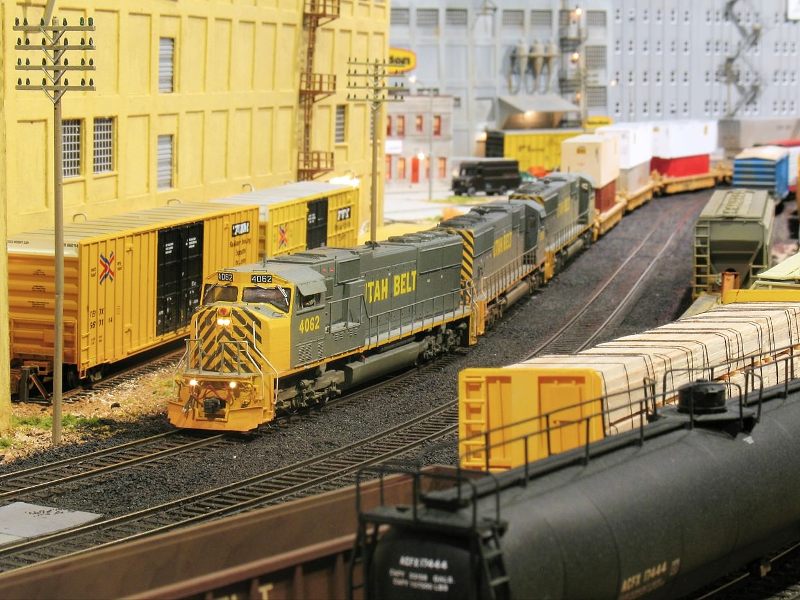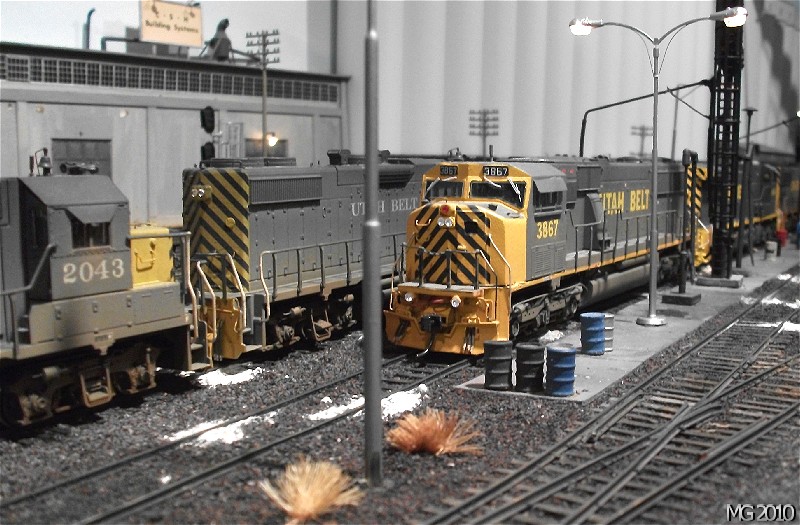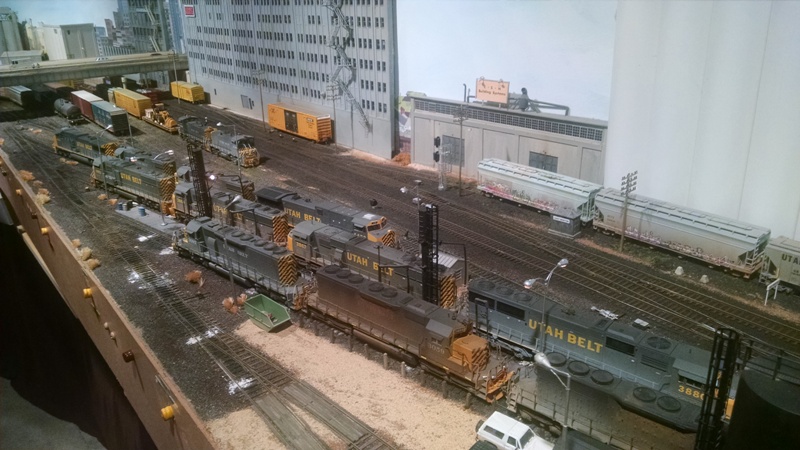 Planning & Concepts:
The Port of Long Beach Subdivision - HO - Mark Lestico
Operational Paperwork:
Bench Work Construction:
Turnout Tips:
Track Laying:
Electrical Work:
Painting & Ballasting Track:
"Let there be Light!"
First Op-Session November 26th, 2016
Signal Installations:
Industry Construction: