Un-named LA switching layout - HO - Michael Powell
From LdsigWiki
switching pike for a spare room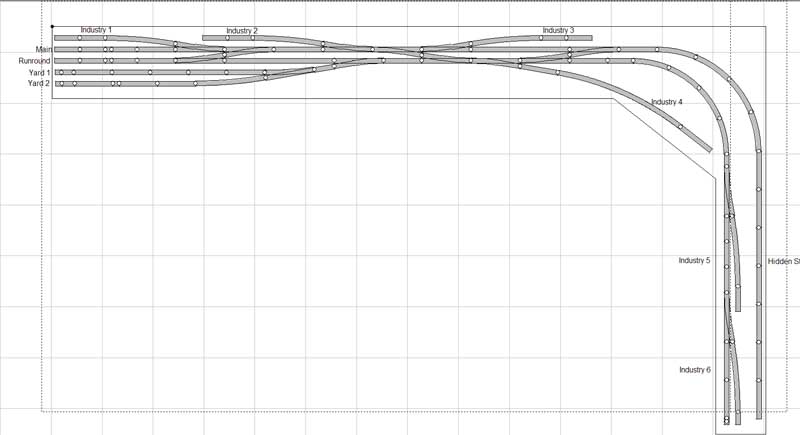 ATSF 1990s time slot LA - Commerce Yard area motive power GP30/GP35 combo or GP38 pairs
number 6 turnouts
one hidden staging track
six industry spots
two yard tracks for breaking down/making up trains
traffic - general in reefers, box cars, lumber on center beams, plastic pellets in bulk hoppers, cement?
DCC control, single operator
domino construction
minimal scenic effects
I've been trying to devise something that will be relatively simple to construct and 'finish', but interesting to operate.
I'd be very glad of any hints or advice. I'm living in the UK, but travel over to LA a couple of times a year for work so I'm trying to capture some of the flavor of what I see in a fairly minimal space.
The long leg is 14 feet, the short leg 8 feet. The room isn't solely for hobby, so finish has to be neat and unobtrusive.
Plan drawn using Atlas RTS - a real boon, as it stops me trying to shove more track in than will really fit!
Revision One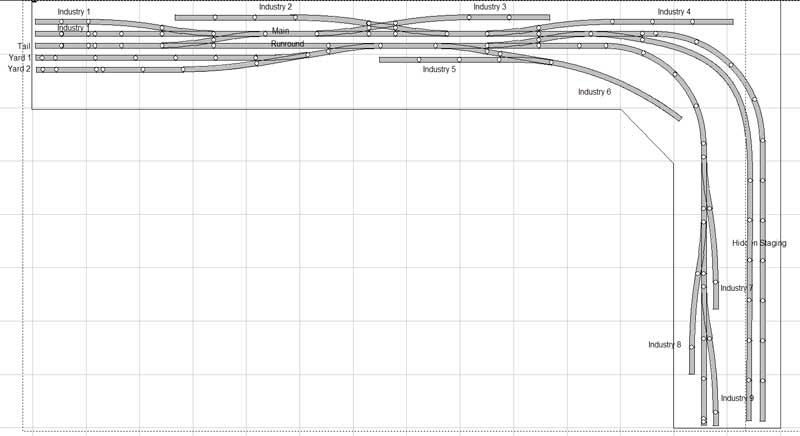 Wow, thanks for all the responses - better than I could have imagined! I've worked up the plan to include most of the suggestions made, with some caveats. For some reason, I have a strong dislike of curved turnouts - I know they free up space, but they seem so un-American to my eyes! So I've tried as far as possible to use a standard number 6 turnout and avoid any 'tricky' track. I've made an exception for the scissors crossing, as I have an example from the industrial track near Commerce Yard, so I can live with it.
Here is my inspiration. I notice from the latest Live Local shots that all the small spurs have now been lifted, so I went back onto Google Earth to quickly snap these shots.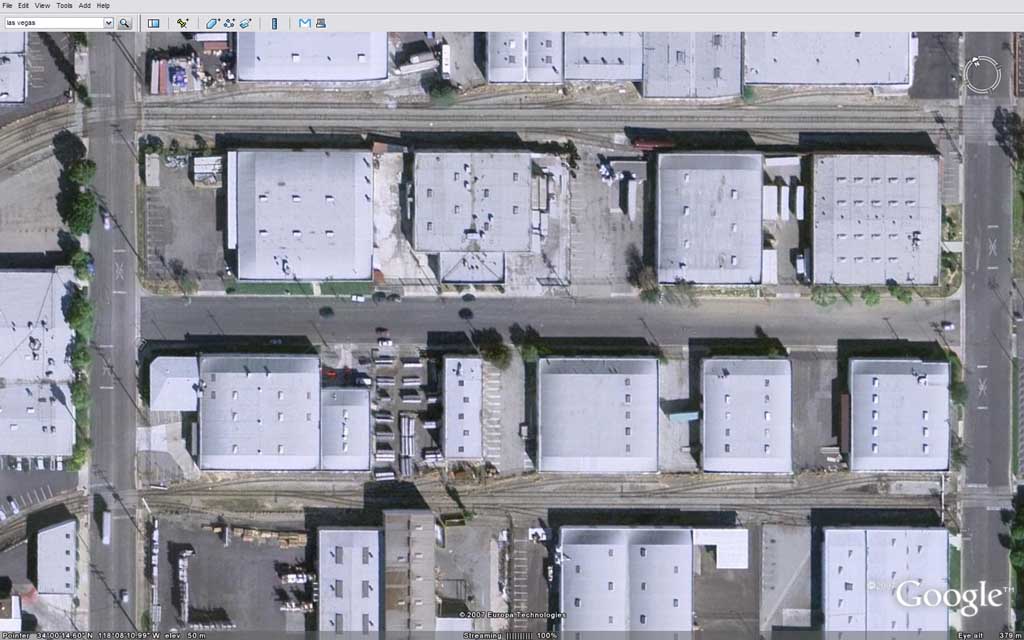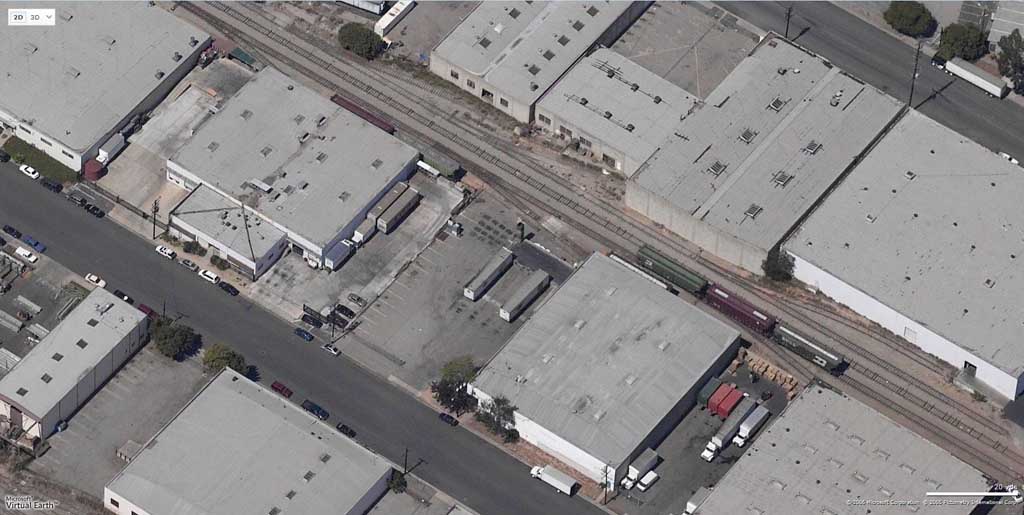 Short spurs, dense tracks but all standard turnouts, nothing to 'tricky' here...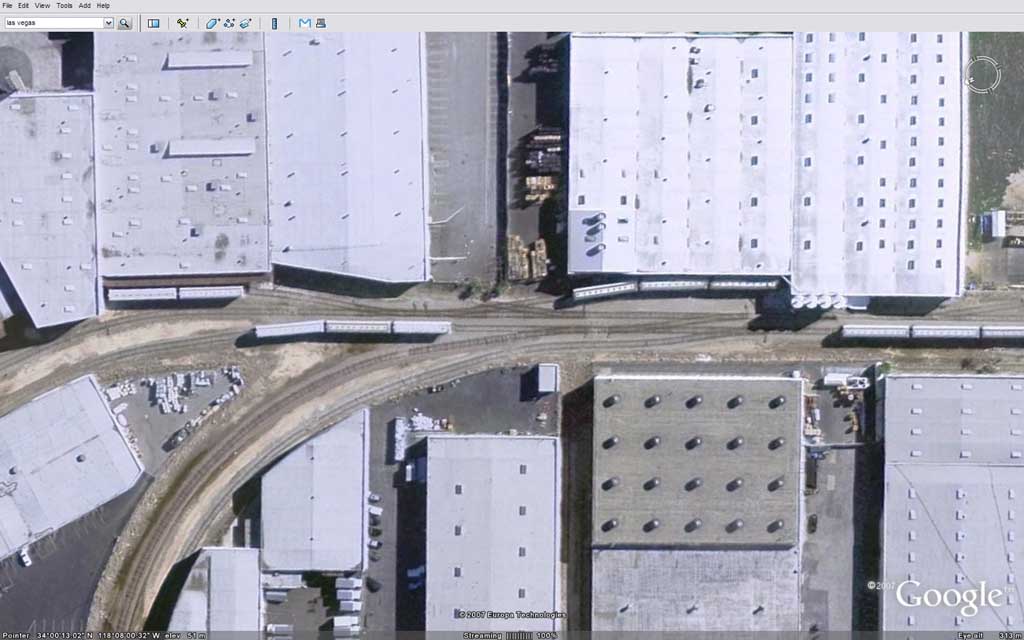 Here's the prototype for the scissors crossing - a cliche much seen on switching pikes, and something I was avoiding but... now I can have one :-)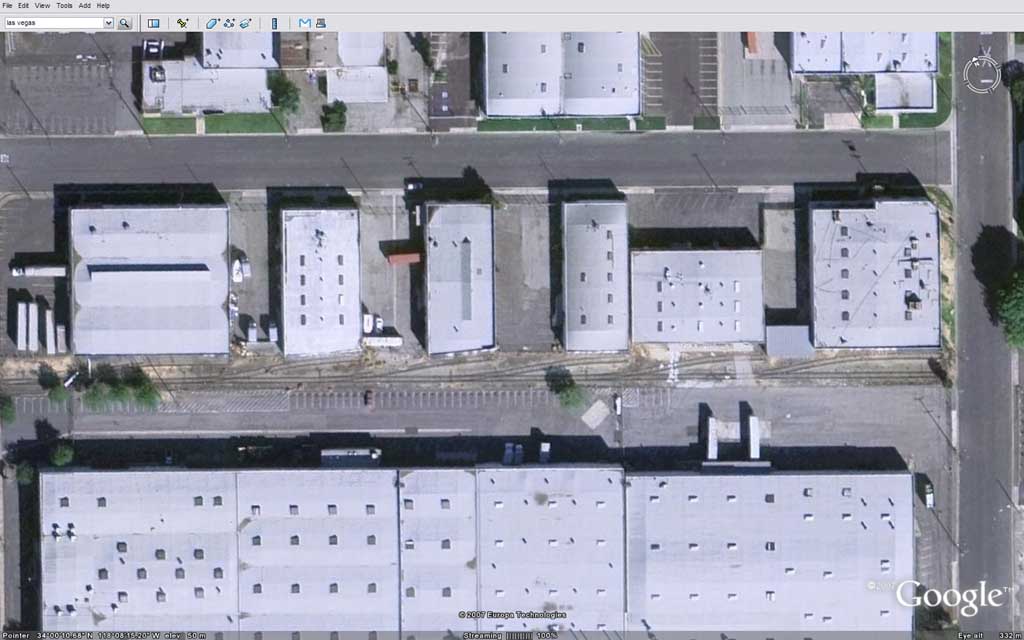 Here's a fantastic set of short sidings serving a set of modelgenic industries. I was hoping to get to visit these this year, but the tracks have all been lifted recently.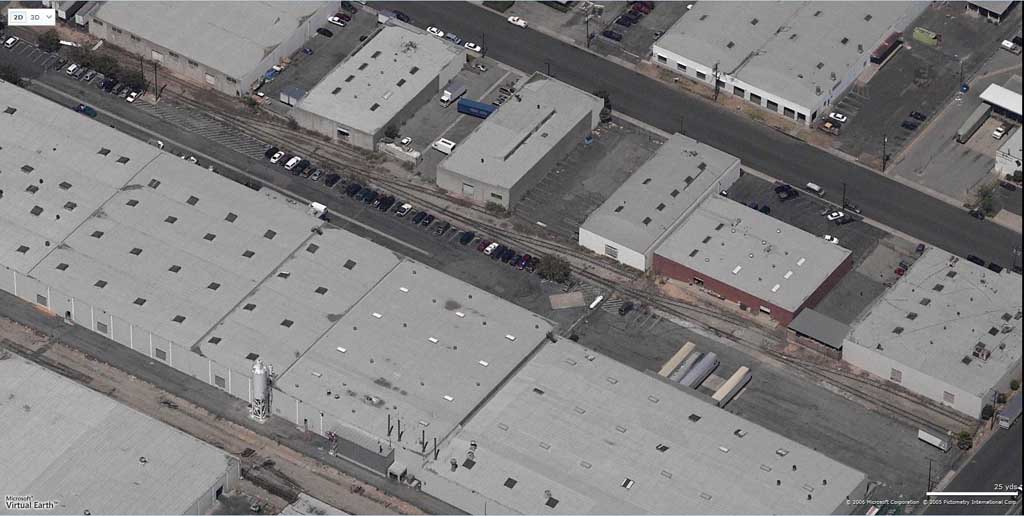 Revision Two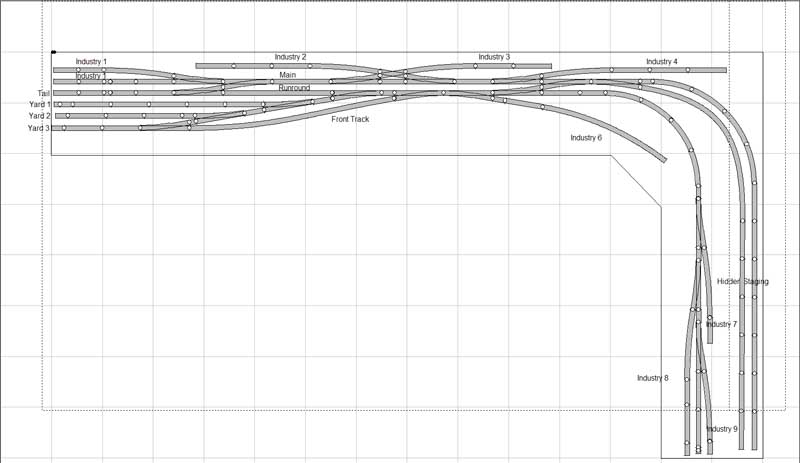 Here's the latest revision. I've lengthened industry 8, added a third yard track and a short siding called Front Track has replaced industry 5 which was on a kickback. This would be a piece of rail practically buried in the dirt on which the switcher would sit, right alongside the yard office.
It's looking a little heavy on trackage now - the third yard track doesn't actually add any capacity, as the turnouts take away the same number of cars as the new siding adds...
I'm not sure that this one really works for me, as it seems to be moving away from the original premise. I think I'll look at ways of reducing the trackage and getting the benchwork back to 18" width over the weekend.
Thanks in advance for your comments.
Revision Three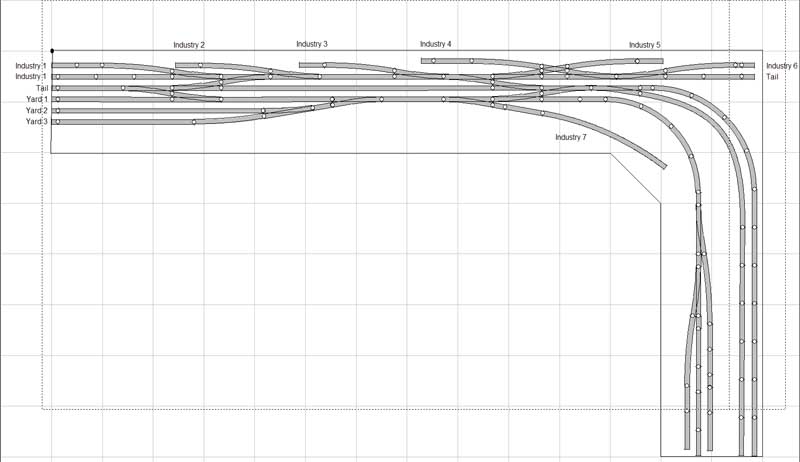 I took away Yard three and the Front track - trying to reduce the amount of trackage generally, and get back to the 'thinner' look of the prototype. Also the scissors crossing is now on a kickback - crazy I know, but a direct lift from photo Commerce_04 above. But take a closer look, the biggest change isn't immediately obvious. Yep, I've added a third track the full length of the layout. This was from a suggestion by ctxmf74 for a multi-track 'mainline'... When I looked again at the photos, sure enough there are several areas like that. It looks a little heavy on a plan, but with code 70 rail buried in the dirt, shouldn't be too bad.
Think I'm getting closer to what I want now.
Like Revision One, but in colour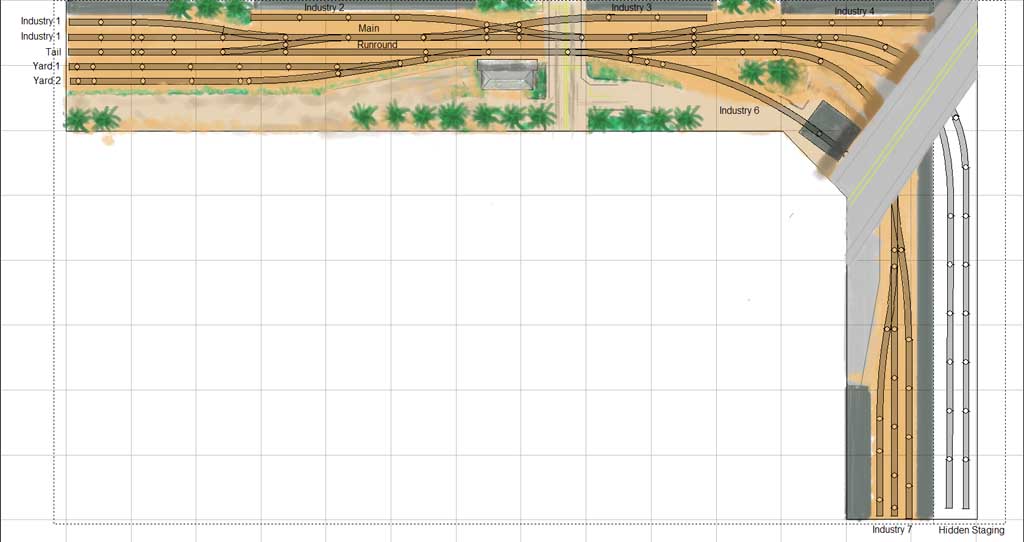 Nice and simple, and worthy of inking in. This is pretty much revision one, minus the kickback from Industry six. I've made Industry seven big enough to have a pair of sidings plus a storage track. Scenic treatment - simple and LA, concrete roads, scrubby dirt and weeds, a few signature palms, (probably not as many as I've shown) a highway overpass...
A small yard office, with some railroad vehicles parked alongside, a cement plant on Industry six for one of those cool (to my Brit eyes) twin hopper semi trailer things, some modern concrete and metal sided warehouses as the background and that's about it.
Harry Vig's version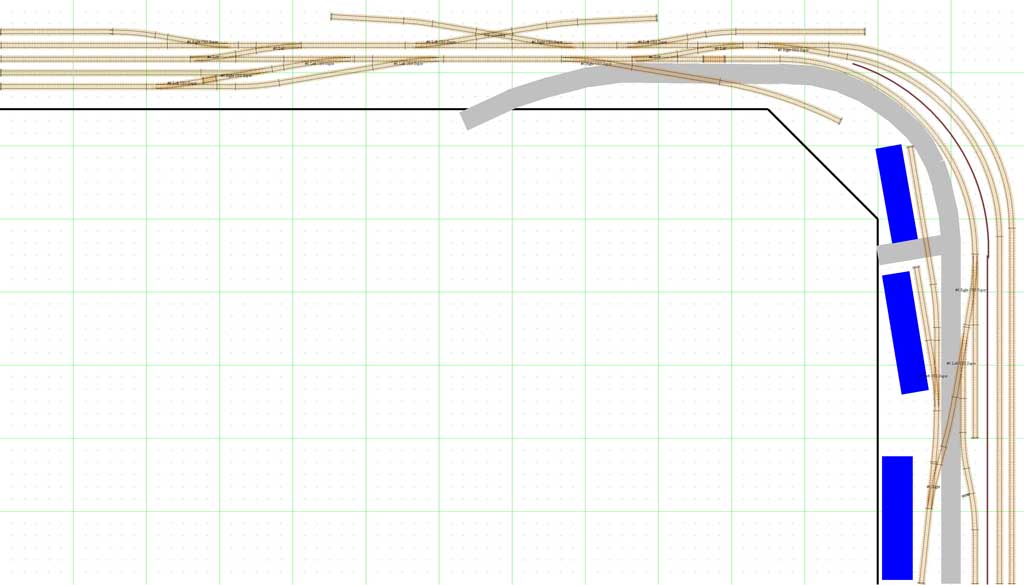 I really like the look of the switching area on the short leg. Operationally and scenically more interesting than my version. The industry view blocks, and the tracks interlacing the road are really evocative of switching and locals in LA.
Steve Hanlon's N scale version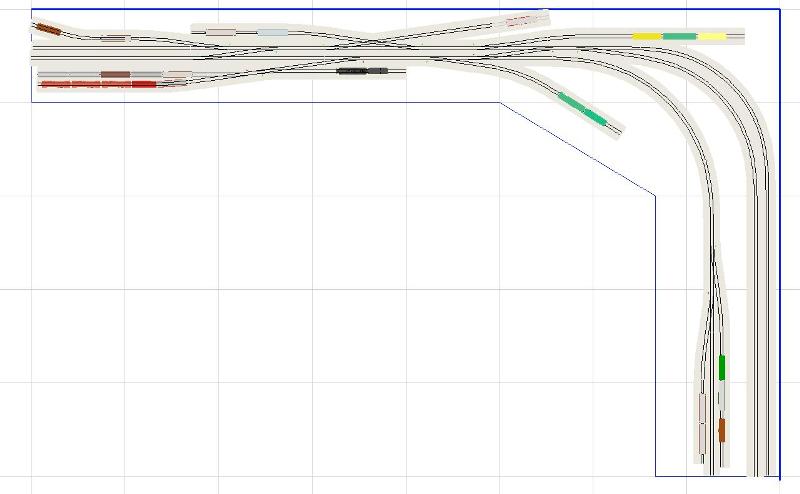 I've drawn up an N scale version of the original with a few tweaks. I have an 8x5 corner that I was looking to build in and this fills the bill nicely. I tried to add the short leg like Harry's, but it just didn't work for me. The layout is available as a 3pi file for those interested. The diamond crossing would have to be hand laid.
---
Looks good Steve. What track system are you planning to use? Only I think Peco Code 55 would have a scissors crossing. The nasty euro tie spacing wouldn't be a problem, as most of the track could be sinking into the dirt!
Revision, also in colour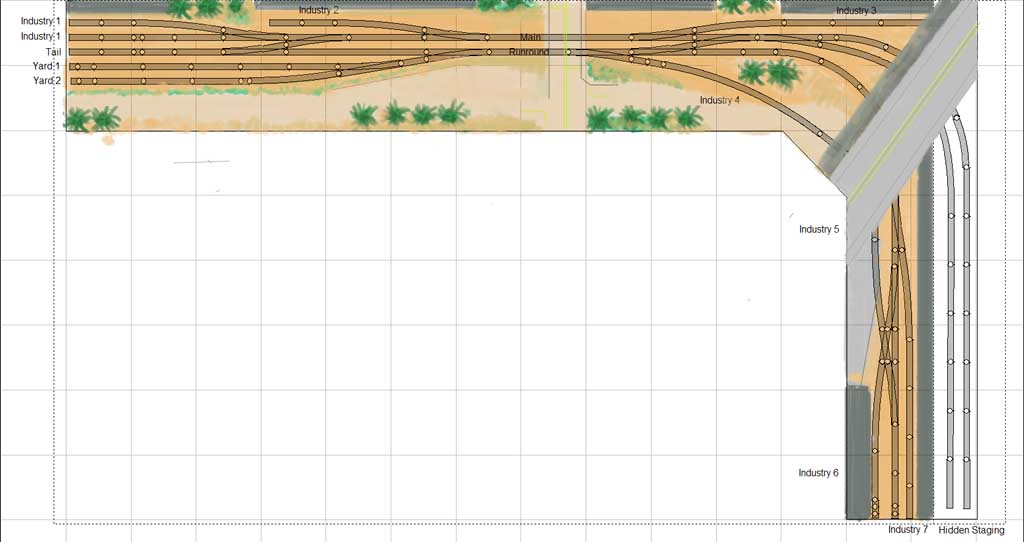 Simplified the main area by moving the scissors crossing to the short leg - it seems more logical in this cramped site. This gives three industry spots to switch in this area instead of just two, and makes it a little more interesting to switch. I've drawn industry five track as inset into concrete, possibly a team track or somewhere for forklifts to work.
Industry one and two would be related - tank cars with inbound raw materials to Industry one, box cars with finished product shipped from Industry two
Industry three is a major spot for reefers - unknown product!
Industry four is still envisaged as a lumber unloading spot, so it has access from both sides of the track
Industry five is the aforementioned forklift spot
Indsutry six and seven are unknown products in boxcars