Unnamed **Updated 10/06/07** - HO - Ryan Blundon
From LdsigWiki
I am in the process of designing an HO layout for a 12' x 12' 10" room in my basement. The layout will be very similiar to the layout known as the Plum Creek Railroad (here is their web site: http://www.plumcreekrailroad.com/index.html) The main changes that I am making is opening up the loops a little bit.
This will be a continuous run type operation with some switching. There is a staging area that is connected to the main layout via a 4 turn helix.
Any help that you can offer in the design process would be greatly appreciated.
I've redesigned the staging area. The one on the left now uses all number 6 turnouts.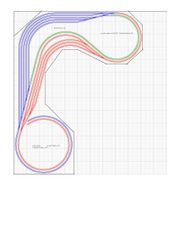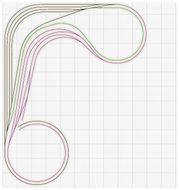 Also, check out my web site for additional updates: http://www.ryansrailroad.com
Two questions that I'd love help with:
  * Open grid or L-Girder benchwork? (It's a double decker)
  * What height should I put staging at? (I'm thinking 36")